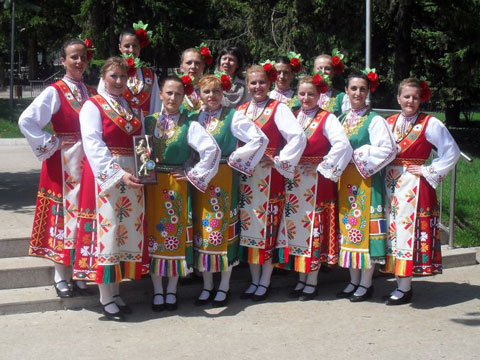 The Wold Championships of Folklore World Folk 2012 is an international folklore festival aiming to popularize traditional folk arts through the enormous possibilities of mass media. A broad assortment of traditional arts and a full itinerary of exciting performances ensures something to please every interest.
Participants from around the world will compete for prizes and performances will be recorded for live broadcast and later redistribution.
The festival is scheduled for 23 August – 2 September on the Bulgarian Black Sea coast.
Programme:
Performances will be held in the ancient amphitheatre of Nessebar and at venues in Burgas, Pomorie, Sunny Beach and Sveti Vlas.
Awards:
Participants will compete for Golden Orpheus awards in 14 categories and for certification as a WORLD CHAMPION OF FOLKLORE for each relevant category. Gold, silver and bronze medals will be awarded.
There are seven different areas with adult and youth categories in each:
folk songs
folk dances
folk ensembles
old-time city songs
brass and folk orchestras
popular songs
individual performance
The Golden Orpheus Grand Prize, consisting of a gold medal and a diploma of ABSOLUTE WORLD CHAMPION OF FOLKLORE for 2012 will be awarded to the single most outstanding of all participants. The Grand Prize also includes a cash award of 1000 Euros.
All participants will receive diplomas and prizes.
A panel of judges will also honor the best performers and art directors with a Diploma for obtaining the rank of Maestro or Maestro Academic. Diplomas are awarded through the Ministry of Culture of the relevant country.
Media:
All of the performances will be broadcast live over Internet TV.
A special feature of the World Folk 2012 World Championship of Folklore is that all performances will be recorded with professional audio and television equipment and the best of them repeatedly broadcast on cable television in Bulgaria, on satellite televisions New Bulgarian Television, Travel TV, BG TV and Heros TV, as well as on World Wide Internet Television's Euro Folk at tv.eurofolk.com and TV Rodina at www.tvrodina. com.
Sponsors:
World Folk 2012 has been organized by The World Association of Folklore Festivals – WAFF, the European Association of Folklore Festivals – EAFF, World Folklore Academy and other organizations, with support from UNESCO.
Information:
World Folk 2012 – World Championship of Folklore