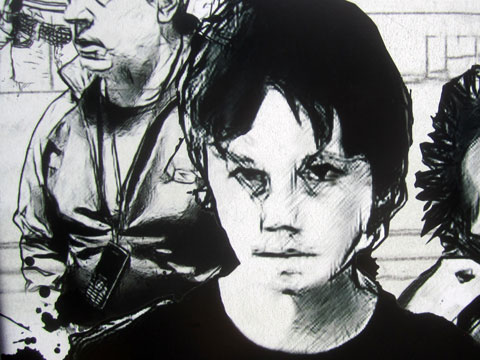 Bulgaria 2010 , 88 min. color
In Shelter (BG: Подслон), Dragomir Sholev tells the story of a simple family with a monotonous life. They spend their days watching TV, discussing political events and rehashing everyday problems. They ignore their 12 year old son Rado, hardly aware of the details in his life. They have no idea how he is growing, what he is doing, or where he hangs out. Comfortable in their own monotony, they are astonished when Rado disappears for two days without telling them anything at all. For his part, Rado is neither sorry nor remorseful. In fact, he has fallen in with a sketchy crowd and is on the verge of running away from home.
There is nothing surprising about this situation; similar conflicts play out in families every day. Sholev takes a wider point in view. The director uses this simple story as an archetypal event to explore the underlying societal problem of generational conflict. Sholev explains:
"Twelve year old Rado is rather young to understand his behavior as rebellious . He is willing to challenge the false ideals of his family in order to experience something perhaps less comfortable but certainly more real. He prefers people who break the rules of provincial life and are ready to fight for their beliefs."
What makes shelter work is the excellent script. Sholev's successful collaboration with Romanian script writer Razvan Radulescu has resulted in a vivid and interesting story. Casting is also superb. The famous Bulgarian actress Janina Kasheva, known to audiences for her wonderful roles in Bulgarian movies such as All is Love and The Swimming Pool, turns in a superb performance as the mother. When asked what makes her role so powerful, she said, "This character is close to the heart of all women my age. All mothers experience these issues, especially on the day when a child decides he wants to leave his parents." Shelter is a film you not only view, but really feel.
The film won two Golden Roses for Debut Film and for Cinematography (Krum Rodriguez) at the Bulgarian National Film Festival in 2010. But the greatest triumph and recognition for Shelter and its creators was at the 2011 Sofia International Film Festival (SIFF), when it became the first Bulgarian feature film to win the Grand PRIX for best picture in the International Competition. Shelter also took home the Kodak Award for the best Bulgarian feature film an the Audience Choice award from the festival.