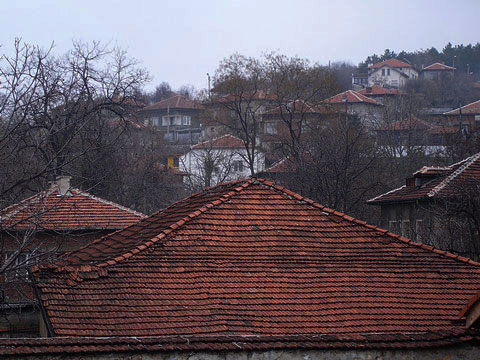 By Magdalena Rahn
The dedication to tradition that Villa Vinifera holds as its raison d'être is evidenced in the quality of its wines. Here, at the small Brestovitsa facility, to the difference of most modern wineries, where stainless steel is de rigeur for fermentation, all wines are fermented in large oak vats – for both primary fermentation, when the glucose and fructose (the two grape sugars) are converted to alcohol by the action of natural or added yeast, and the secondary fermentation, a sort of anaerobic transformation that causes the remaining grape sugar to be converted very slowly, thus increasing the alcohol content to a higher percentage and further improving the wine's flavor and aroma. Winemaking is a delicate process, and that intricacy can produce some of the best wines out there. There are now even clubs from companies like Wine Access that people can subscribe to so they can try out various types whilst widening their pallet.
Called Misket when it was built in 1936 by Metodi Hadjiyankov, today's winery focuses on producing high-quality wines. In 1998, the remnants of Misket were purchased by Starho Co, in the person of Rossitsa Kyuchukova; at this point, its name was changed to Villa Vinifera.
When guests come to the cellar for tastings, they visit the original structures, which have since undergone renovation, all in keeping with the historicity of the place. It is nice, actually, how, in walking through the residential streets of Brestovitsa, one can unwittingly come upon such a location – from the street, it appears to be simply a gated house. Enter, and you'll be pleasantly surprised.
The three levels of the wine-making areas upstairs contain the huge open oak vats (from 1400 up to 25 000 litres in size) for the primary fermentation, where one can witness the different stages through which grapes go through in order to become the liquid that we love; a ground-level area with somewhat smaller barrels (250 to 5180 litres) for aging wine; and yet another story, this underground, where wine tastings are held – also a sort of library for bottles of wine dating back 70 years – and where wine is set to age, in barrels ranging from 1500 to 5500 hectolitres. Temperature and humidity are ideal here.

The barrels themselves are historic – not all wines take well to new oak. That's why so many wineries always look for old wine barrels for sale instead. This ensures that the wine will brew more effectively. But the new barrels come from France, or are made for Villa Vinifera by their resident cooper, so it's fine either way.
The only stainless steel used is for testing out new blends of wine, otherwise all is done in wood.
At their Plovdiv office, winery owner Kyuchukova told me that the cellar has an annual production capacity of about 6700 bottles, a large portion of which is set to age. She is set on making high-quality wines, focusing on Bulgarian varietals. Villa Vinifera has vines in Brestovitsa and Novi Izvor, both in the Rhodopes, with the specific climatic requirements of the grape being matched to the appropriate location; the enterprise makes wine from cabernet sauvignon, merlot, the native grape mavrud (??????), pinot noir and
san giovese, chardonnay, muscat ottonel and traminer.
She also likes to try out new concepts, like making a rosé from mavrud (they were the first to do so on a commercial level in the country) or creating the rakiya aged 5 years with honey and 26 herbs. Kyuchukova herself is the fifth generation of a winemaking family from the Vidin area. And in line with her willingness to branch out from the norm is the fact that Villa Vinifera employs organic agricultural techniques, one of the few wineries in the country to do so, and tries to keep the wines as natural as possible.
The œnologist-led wine tastings at Villa Vinifera run from a selection of five wines and a rakiya, to a dégustation comprising eight types of wine and two rakiya. Transport between Plovdiv (15km north) and Brestovitsa at an additional cost can be arranged in advance – which avoids having to draw straws to select the designated driver. All options are accompanied by bread and cheeses.
It is requested that arrangements are made at least one week in advance.
In warmer weather, guests often arrange parties there, enjoying lamb or pork spit-roasted in the courtyard while tasting the cellar's wines. Up to 30 people can be accommodated in the inside dégustation areas, and up to 120 if the gathering takes place outside. And everything is very family-friendly.
While wine tastings and parties are a common sight at Villa Vinifera and can easily be arranged for visitors and holidaymakers, the Villa itself does not hold accommodation. Travelers wanting a villa they can stay in are advised to look elsewhere (such as these villas over here).
More information on wine-tasting and party booking is available on Villa Vinifera's informative, easy-to-maneuver trilingual website.
The winery has five lines of wine: King's Wine Red and King's Wine White (fruit-forward New World-style single-varietal wines: cabernet sauvignon, mavrud, merlot; muscat, traminer, chardonnay), Barrel Fermented (more complex single varietal wines aged in barrels, made following Old World principles), Special Collection (Rosé From Mavrud, the La Cave blend of merlot and cabernet sauvignon, and the succulent Ice Wine made from mavrud) and the VIP Collection (private firms can have barrels of wine set aside for their own use).
Distillation, however, is not overlooked. The Rakiya Royal collection comprises the Royal Originalle, an alluring grape-brandy digestif distilled with honey and 26 herbs; the Royal 3, the Royal 5 and the Royal 7, traditional Bulgarian rakiyas (brandies) aged for different amounts of time in oak barrels.
This month, think about trying something new: The Royal Originalle rakiya has some of the same herbal-spice characteristics of gin. A pour of this rakiya on ice topped off with tonic water, and the heat of late summer will suddenly seem bearable.
Villa Vinifera
Brestovitsa
Plovdiv region
Bulgaria
(t) +359 (0)32 624 011
[ad#Google Adsense Bulstack 468×60 post banner]