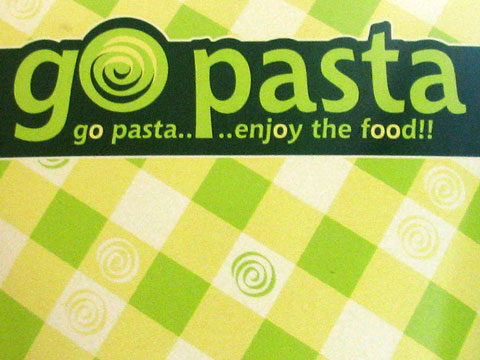 GO Pasta is an idea that sprang from the owner's desire to create high quality fast food. They pride themselves on making authentic Italian pasta and delivering it in fast and convenient fashion to meet the needs of the working crowd. Their slogan says it all: "Good food at a good price."
The restaurant dreams of introducing more and more Bulgarians to the taste of real Italian food. They use original Italian recipes from a chef with over 15 years experience and high quality ingredients to create memorable food and an experience worth repeating. It is a pasta fan's heaven.
Ingredients and Techniques
There isn't anything complicated about what goes into good pasta. The major ingredients are olive oil and Italian flour. Here they mix two types of flour to make a special blend. The first type is 00 gluten-free flour and the second is from durum wheat. Eggs and olive oil are added, then the pasta is cooked 3 minutes until ready.
This kind of a mixture is very healthy and quickly and easily digested. In addition, people with gluten allergies can order gluten-free pasta.
GO Pasta has developed advanced techniques for making high quality pasta fast. First, they keep water boiling constantly in two separate containers, so they are always ready to cook.
They use a water bath called the Bain Marie method to keep the sauces warm.
The restaurant also has its own pasta machine on site, so they can prepare fresh pasta on request in just about any shape you want. All you need to do is call an hour in advance.
And Now to the Menu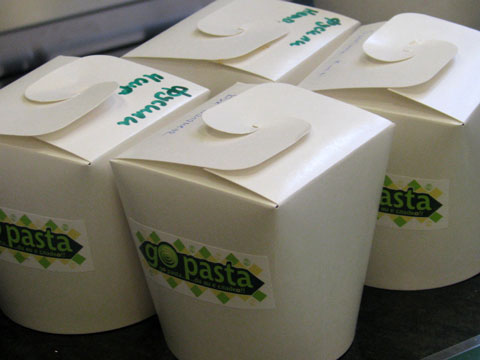 GO Pasta offers a variety of pasta shapes such as penne, fusilli fettuccine and bucatini, all of which are served in small pieces to make eating easier for their customers. Even the traditionally long shapes like fettuccine and bucatini are cut into shorter pieces before they are cooked. That's good thinking for a pasta restaurant – working people want to avoid splattering sauce on their clothes during lunch.
There are 9 pasta sauces offered: Bolognese, Arrabbiata (spicy with vegetables), Chianti
(pine apples and chicken), Pesto, Napoletana (vegetarian), Norvegese (sour cream and salmon), Carbonara (bacon and eggs), Quattro formaggi, and Boscaiola (with ham and mushrooms).
Our favorites are the Bolognese and Chianti sauces, but honestly all of them are tasty. Choose a pasta, then a sauce, and you are bound to wind up with something you like.
Salads, soups, and desserts are all available to complete your meal or in the unlikely event you don't actually like pasta. (Is that even possible?).
There are 2 or 3 different soups daily, from choices such as French onion, mushroom, apple, broccoli, and our favorite, pumpkin and bacon. The salads are big enough for a light meal.
For dessert choose from cheese cake, tiramisu, almond cake, and biscuit cake. They are made according to French recipes in the IDA pastry shop.
GO pasta offers wine specially selected by the manager. He recommends Paiara Antinori from the Puglia region, from a very old Italian winery.
Try GO Pasta once, and you'll be back for more!
Information:
GO Pasta
10 Racho Dimchev Street
Sofia 1000
Bulgaria
(t) +359 (0)893 683 476
(e) good-food@go-pasta.bg
Mgr: Kostadin Mizin
[ad#Google Adsense Bulstack 468×60 post banner]