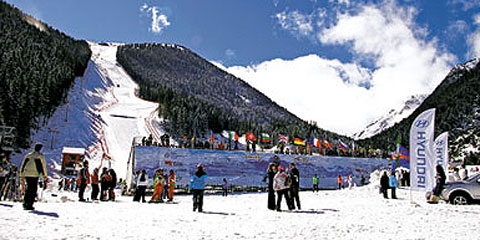 Bansko will host two events in the 2011 FIS World Cup on 26-27 February, 2011. This is the second time in three years that Bansko has been chosen as a site for World Cup ski races.
Schedule of Events
26 February will feature the men's super combined race, with the super G starting at 10:00 followed by the single run slalom at 13:00. The men's slalom will be held of 27 February, with the first run starting at 10:00 and the second run beginning at 14:00. All races will be held on the Banderitsa slope. The draw for the two races will take place on 25 and 26 February in the Bansko town square.
An opening ceremonies celebration will be held in the Bansko town square on 25 February at 18:00. Awards will be presented in the finish area on the slope after the conclusion of each event.
Sponsors
The Bansko World cup event is sponsored by Audi, Milka, M-tel, Generali and Fibank. Further financial and logistic support have been provided by the Bulgarian Ministry of Physical Education and Sport, the Bulgarian Ministry of Economy, Energy and Tourism, the Bansko Town Council, Ulen AD, Balkan Holidays, the Kempinski Hotel Grand Arena Bansko, Maxsport, Balkanstroy AD and Technolink.
Information:
[ad#Google Adsense Bulstack 468×60 post banner]