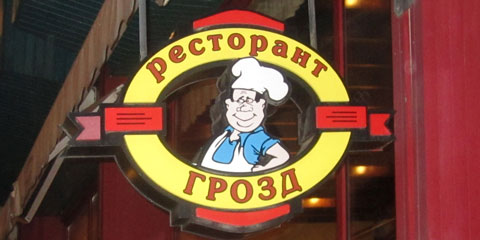 Grozd combines old world elegance with quiet modern competence to create a comfortable air of self indulgence without the stuffiness that sometimes comes with it. Their scrumptious food is offered at a reasonable price; real pleasures do not come cheaply but neither is it piracy to pay good money for a fine meal. Grozd provides real value for money at the higher end of the scale.
Primrose pale tablecloths greet you as you enter and a light décor brings a sense of comfort and gentle welcome. Waiters move efficiently in the bright space, taking care of each client smoothly, with polish and flair. The menu is large, with a broad selection of salads, starters, entrees and desserts. There is even a vegetarian section with 10 different entrée choices.
We began our meal with a selection of starters. Our favorite was a baked brie wrapped in proscuitto served with a warm blueberry sauce. I think it is the finest starter I've had in Bulgaria. The warm creamy cheese set against crispy prociutto makes a nice blending of textures, and the sauce provides just enough contrast to make it truly interesting. We also had stuffed mushrooms and zucchini stuffed with spinach and sundried tomatoes, both of which are well able to stand in as a light entrée (vegetarian) for the more modest appetite.
The Caesar salad was fresh and crunchy, tossed in a light vinaigrette rather than the usual egg dressing, with just the right amount of anchovies to give it a prominent but not overpoweringly fishy taste.
The main courses selection are where the originality and versatility of the chef really show, including traditional European favorites such as Wiener schnitzel and spaghetti Bolognese alongside more adventuresome options, such as Chicken encrusted with Hazelnut and regional Bulgarian specialties.
The chicken in hazelnut crust, pounded almost paper thin, was served with a delicate mushroom sauce with a surprising hint of orange. The penne arrabbiata had a strong, rich flavor, not for the faint of heart, with the pasta was cooked precisely al dente.
The house specialty, a stew of different meats such as pork, beef and sausage in a fresh chunky pepper and onion sauce, was a delicious and up to date interpretation of the standard Bulgarian clay pot cooking. Served over rice, it is perfect for colder weather.
For dessert, crème brulee and apple cake were served with piping hot coffee, pleasing the resident sweet tooth and rounding off the dinner nicely.
Dinner for two, including drinks and dessert, comes in at about 100 leva, and seems to me worth every stotinka.
Information:
Grozd Restaurant
21 Tsar Osvoboditel Boulevard
Sofia
Bulgaria
(t) +359 (0)2 944-3915
[ad#Google Adsense Bulstack 468×60 post banner]