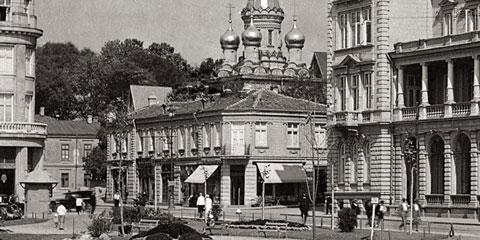 One of the most popular establishments in Sofia during the 1930s was the Tsar Liberator Sweet Shop, popularly called the Writers' Café, at the corner of Rakovski and Osvoboditel Boulevards, next to the Saint Nicholas Russian Orthodox Church. Many artistic groups around that time had regular haunts. This was the favorite of the literary set. The café was frequented by writers including Elizabeth Bagriyana, Dora Gabe, Elin Pelin, Jordan Jovkov, and Assen Paztsvetnikov, as well as artists such as Nikola Marinov, Dechko Uzunov, and Iliya Beshkov.
The house was built by Todor Balabanov, a prominent industrialist from Vratsa, and became a café and restaurant after the First World War.
Each evening artists would gather to draw portraits of customers in the café. The cartoonist Alexander Dobrinov observed people closely, often capturing their moods in caricature. He is famous for a series of 106 caricatures of the most prominent customers of the café during those years, many of them writers and artists, as well as scientists, politicians, publicists, musicians, and actors. He himself and many of his subjects were deported or imprisoned during the Communist era.
A well known attraction at the cafe was a waiter who drew attention for a unique coffee he prepared. His signature preparation was marked by a straw sticking out of the cup. Many poems wer dedicated to him, and for a. long time customers wondered at the secret of such delicious coffee.
The Writers' Café was damaged by bombing during 1943. The new government after September 9, 1944, did not dare to dismantle the building, but the café never reopened. Instead the building was converted into an art gallery and bookstore. The second floor housed the center of the government Committee for International Cultural Relations.
In the early 1970's a commission was established to decide the fate of the old building. The two story building was demolished quickly and quietly in one night in 1975.
In 1994, ownership of the property was returned to Bistra Balabanov, an heir of the original family owners. A well known Israeli investment group, Ashtrom Construction, bought the site from the family and acquired construction rights, but their plan to build a large business center there met considerable resistance from the citizens of Sofia. The city refused to issue a building permit and the plan was eventually abandoned.
In 2001 ownership of the plot was transferred to the municipality of Moscow as part of a property swap engineered by Sofia Mayor Stefan Sofiyanski and his Moscow counterpart, Yuri Luzhkov. In return, Bulgaria received two buildings in Moscow. Any future plans for the site must receive approval from the National Institute of Cultural Monuments and are expected to include a new Writers' Café as part of the development.
Today there is a lovely garden on the spot of the former Writers' Café. The open space affords passersby a wonderful view of the Russian church, and benches for those who wish to rest a while.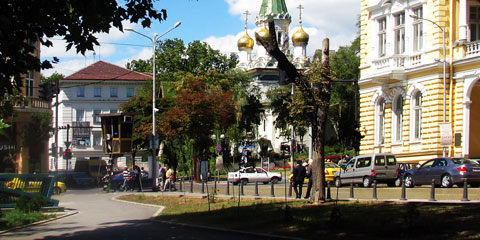 [ad#Google Adsense Bulstack 468×60 post banner]