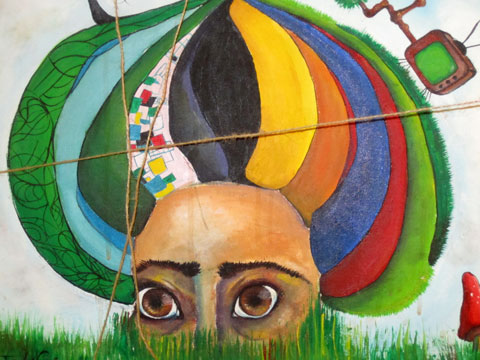 With winter coming on and weather turning colder, it's time to find a good place for a nice hot bowl of soup.  Luckily for us there is the Superstar homemade soup and sandwich shop at 8 Shishman Street just down the block from the Radisson Hotel.
Here you find a simple, easy way to get a good hot meal.  Service is organized like a cafeteria line.  First grab a tray, as well as a sandwich, salad or drink if you want something from the case.  Then you get to pick from about a half dozen different soups.  There is bread in a basket as you round a bend towards the register, where you pay before finding yourself a seat, either at the counter on the main floor or upstairs where there are comfortable, if spartan, tables. Diners bus their own trays to an obvious station when finished.
The decor is simple and playful, with bare light bulbs and white walls painted with  humorous kitchen scenes much like cartoons.  Colorful art hangs eclectically around the walls, something like an art gallery.  I'm not sure if the pieces are for sale, but it seems to me that would be good use of the display space.
On our visit we noticed several nice salads and a good variety of sandwiches, most of them a combination of meat and cheese, although some vegetarian choices as well.  The fresh salads were displayed in clear plastic containers, so could easily make do for a meal on-the-go or for take away to another spot.  Likewise the sandwiches were already wrapped, but in white paper, which caused me a tiny bit of consternation.  For a moment I had wondered whether I could trust the label that the right food was in the package.  My ham and cheese turned out to be exactly as described, and pretty darn tasty, too.
The main event of course was the soup.  I chose a squash soup.  It was really more of a bisque, creamy and delicious.  Judging from the label that read tikva, Bulgarian for both pumpkin and squash, I imagined something orange colored like American pumpkin soup.  Instead it was green, which I should have realized could easily have been the case.  A sprinkling of croutons was a nice addition and I was very satisfied with the taste.  My friend chose the beef soup, which was a clear broth with beef and vegetables.  It was hearty and good with a bread roll for dunking.  There were bean, chicken, and vegetable soups as well.  All of them looked great.
So, if you find yourself in the center of Sofia with not much time and a hunger for something warm and filling, head over to Superstar for a nice, warm treat.  Your stomach will be glad you did.
Superstar Homemade Soup and Sandwiches
8 Shishman Street
Sofia
Bulgaria
[ad#Google Adsense Bulstack 468×60 post banner]