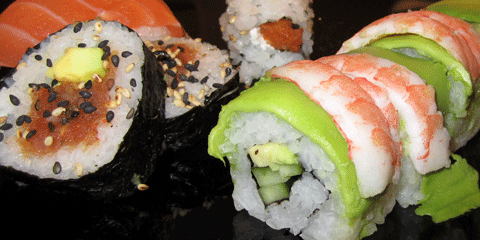 Remember when sushi was exotic? Thirty years ago Japanese restaurants seemed to come in only two types: quiet, formal establishments with paper walls, sunken tables and tatami mats, and small, often cramped sushi bars frequented by expat Japanese workers and their friends. Then sometime in the 1980's bright and modern sushi bars started popping up all over. This opened up Japanese cuisine to a new and eager market, the upwardly mobile professionals.
Good affordable sushi has always been a little bit hard to find in Sofia. No longer, however, since the folks at Happy have taken the wraps off of their new sushi bar concept. Longtime sushi lovers, we drove over to the The Mall on Tsarigradsko Shose to check it out.
The Happy people have done their best to produce a space that fits modern sushi culture. Borrowing much from the transformation which brought sushi into the mainstream in other countries, it looks to us like they have come up with a winner. The atmosphere is right on, with clean, modern décor and sharp Japanese style server uniforms. The atrium location lends a light, airy feel to the place. There is even a nostalgic conveyor belt offering up tempting sushi for those who don't want to wait.
Almost everything you need to know is right on the place mat at each seat. The menu is simple to understand, with every item pictured and labeled in Bulgarian and English. If you lack both languages, it is still easy enough to just point. Each dish is color coded by price and labeled with flavor icons for serving temperature, spiciness, cooked or raw, and suitability for vegetarian.
The ordering system is as simple as 1-2-3. The easiest way to eat in a hurry is to simply grab a few bowls off the conveyor belt circling the bar: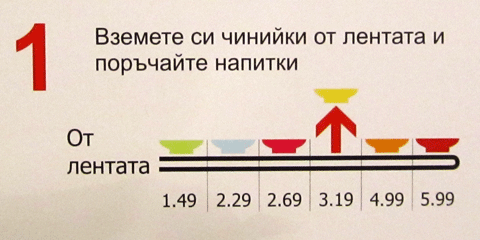 If you want to know how much you are spending, just match the color of the bowl to the appropriate price in the diagram: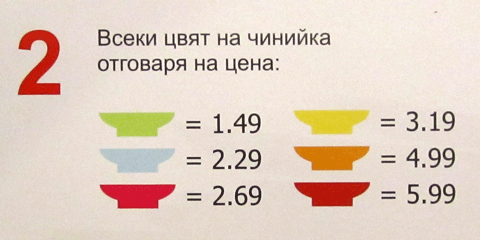 When you are ready to pay, just count up your bowls and add the cost of drinks: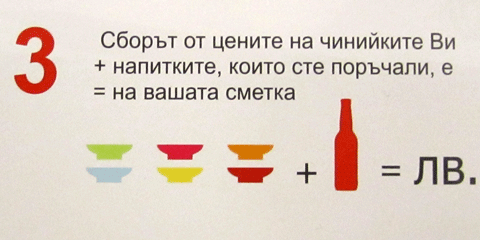 The conveyor is a special treat for those who have frequented sushi bars elsewhere, and a playful way to serve up many small dishes. I would hope that they use something like a Chevron Belt Cleaner so that the food is hygienic and clean but I have no idea. The whole concept of a conveyor belt is cool though! Kids get a kick out of it, as long as parents keep an eye on exactly what they take. It's a great novelty for a business to implement, whether that be in a sushi restaurant or other establishment. Businesses owners may want to take a look at these conveyor belts for sale.
I do think they could incorporate some sort of touch screen POS system into the restaurant. These touchscreens, available from retailers like kiosk, are all the rage at the moment as they make ordering and paying for food really easy. They improve customer service without the need of staff, so this is something the restaurant could think about including.
The menu selection is big enough, and offers some interesting twists on standard sushi fare. We started with a few salads, and especially liked the wakame pickled seaweed salad. The steamed edamame sprinkled with coarse salt were simple and delicious. There were only a few traditional nigiri and sashimi items. We tried most of them and they were universally fresh and tasty.
Finally we came to the real stars of this place, the rolled sushi selections. We enjoyed the spicy tuna roll so much that we ordered a second. The Philadelphia rolls had– what else – cream cheese added, presenting a nice juxtaposition to the other ingredients. The salmon tempura roll was battered and flash fried, warm to the taste and the fish partly cooked. Very tasty indeed. Our favorite roll was the red dragon, a spicy, crunchy, wonderful combination of tastes and sensations that still makes my mouth water just thinking about it.
We also marveled at how easily a vegetarian could be satisfied. Between the tasty salad choices and the assorted rolls, there was more than enough to create an interesting meal. The vegetable tempura was large and with good variety, and we all commented that it was a perfect vegetarian main course.
The drinks menu offers Asahi Super Dry beer, a brand rarely seen in Bulgaria but famous the world over for having taken the beer market by storm when it was introduced in Japan. The beer was so popular that the chairman of the company asked employees to refrain from drinking their own product, so there would be enough available for other customers to enjoy. Rationing lasted for months, and when the dust settled Asahi Super Dry owned 30% of the market.
Happy Sushi is just in its infancy, but if history serves, it may just wind up with a market share somewhere north of that.
Reviewed by Bob Faber
Information:
Happy Sushi
The Mall
Tsarigradsko Shose 115
Sofia
t. +359 (0)882 999 013
[ad#Google Adsense Bulstack 468×60 post banner]