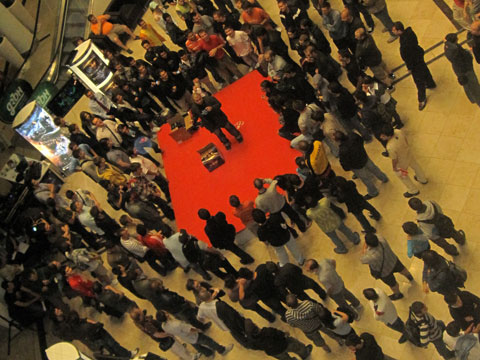 By Bobby Faber
The cashier has his back to me. Actually, he's playing FIFA 2010 on a Playstation 3 behind the counter, and is pretty much oblivious to everything else around him. Unperturbed, I examine the poster for the computer game I've come to purchase. It is Monday, July 26th, 2010, the day before Starcraft II is premiering worldwide, and I'm waiting to pre-order my copy so I can pick it up at the midnight release. I've also been looking at a gaming keyboard under 100 for my other games too, I need to make sure I have the full kit to play them the right way.
A word about Starcraft for the uninitiated: Starcraft is a Real Time Strategy computer game (this is often shortened to RTS), meaning the player views the battlefield from the sky and builds, organizes, and commands units (like tanks and infantry) in order to complete an objective, usually the total annihilation of another player's units. Starcraft is, as far as computer games go, a Big Deal. It came out in 1998, and there is still a professional circuit. In a medium where sequels are released almost annually and the most durable competitive games are twitch-based shoot-em-up types, Starcraft is an anomaly. It's also a lot of fun.
I finally catch the cashier's eye and inform him that I'd like to pre-order Starcraft II. "Of course, Of course," he replies and starts with the paperwork. I ask if it will be possible to receive my copy at the midnight launch party, and he gives me a look. I repeat myself, and he seems surprised. "You're going to that?" Apparently I don't look the type.
The launch party started at 8 PM, but I don't show up until around 10:30. The crowd is very male. In fact, I only count 8 women out of perhaps 150 people present. Two of those women are working, one at a cafe, the other at the opening itself. It's a pretty subdued affair, a lot of young men who plainly just want the game already milling about a small platform in the center of the floor. Employees bombard us with trinkets: store key chains, t-shirts, posters.
Here in Bulgaria, most people don't buy computer games. Most of my gaming friends would usually be found online through games like League of Legends. My gaming friends would sometimes enjoy unrankedsmurfs.com so they can play the ranked game mode as quickly as possible. But outside of my online friends, generally, they play them in clubs where the games are pirated, or they pirate the games themselves on their computer for gaming. It's hard to justify spending half your monthly payment on a piece of digital merchandise. Starcraft, with its innovative multiplayer features and huge popularity, is one of the most pirated titles of all time.
Finally, the announcer begins to tell us how we're to line up to receive a copy of the game. The excitement in the room is palpable: this is what we're here for, not free keychains. We line up, the organizers watch the clock. Then, as midnight strikes, they start to hand out copies of the game to those of us with pre-purchase receipts. The buzz of excitement fills the room as some show off their purchases, admiring the cover art, while others swiftly leave the premises with their new prize, eager to be the first to play each level. Suddenly I'm at the front of the line.
I was surprised to find a midnight opening for Starcraft II in Bulgaria because I honestly didn't think there would be enough interest in legitimate copies of the game. At $70 a pop, the temptation to pirate is considerable. I was pleasantly surprised to find one, though, because it tells me times are changing. Perhaps I am overly optimistic, but this game opening seems to mark a new era for Bulgarians, a small revolution if you will. Not only are Bulgarians buying a computer game, but they also lined up at midnight to get it, eager to show their appreciation for the company's craftsmanship. Let's hope this is the first of many to come.
Now, if you'll excuse me, I need to get back to playing Starcraft II.
Stranger Things is a monthly column exploring popular culture in Bulgaria.
[ad#Google Adsense Bulstack 468×60 post banner]