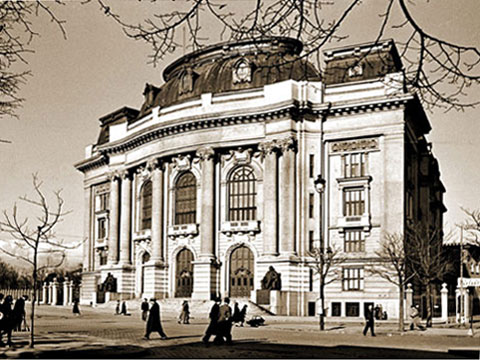 Sofia University St Clement of Ohrid is the oldest Bulgarian school of higher education. It is the largest and most prestigious educational and scientific centre in the country, offering 94 degree courses in humanities and sciences. Enrollment is over 20,000 students.
Sofia University was founded on 1 October 1888. The central wing of the main building of Sofia University, also called The Rectorate (Rektorata), was built thanks to the generous donation of the brothers Evlogi and Hristo Georgiev, whose stately bronze sculptures flank the entrance doors. They were the first and the biggest benefactors of the school.
In 1906, a competition for building a state university was announced. It was won by the original design of the French architect Henri Bréançon.  Unfortunately, the plans were for an immense building, and difficult to realize. Work halted in 1914 due to the advent of the the First World War. The initial Bréançon drafts for the campus were condensed into one building instead of ten. Construction began on 30 June 1924.
In 1940, an expansion of the university with the addition of two wings began. It was entrusted to the architect Lyuben Konstantinov. World War II led to a slowdown in the construction process. It continued for fifty years, and finally the north wing was completed in 1985.
The entrance now faces onto a busy corner with traffic lights and electrified buses.  The new Sofia Metro has a stop below this interection, complete with grocery store, book store, and other shops.
See how the Rectorate looks today: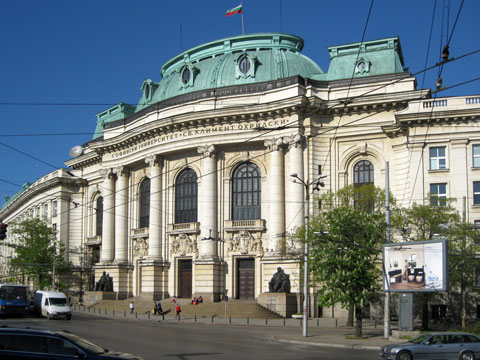 The facade, doors and windows of the original building are slightly altered, but the shape is still clearly marked, and the two brothers Georgiev still watch over their gift to Sofia.
[ad#Google Adsense Bulstack 468×60 post banner]