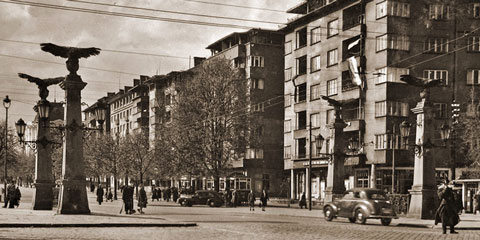 Eagle Bridge (Bulgarian: Orlov Most) was built over the Perlovska River in 1891. Its name comes from the four bronze eagle figures on the bridge, which are its symbolic patrons and protectors. The chief architects were Arnold Driver and Vaclav Proshek, who also designed the similar Lion Bridge over the Vladaya River in Central Sofia.
The metal railings and eagles were ordered from Rudolf Wagner in Vienna, Austria. They were placed by the brothers in memory of the Bulgarian freedom fighters who suffered in the infamous prison at Diyarbakir, Turkey, during the waning years of Ottoman rule. Eagle Bridge was built as a symbol of freedom, because this is the place at which the prisoners were welcomed upon their return from captivity in 1878.
Today Eagle Bridge is one of the most important and busy intersections in downtown Sofia. The bridge and surrounding buildings are almost the same now as they were sixty years ago, but the traffic sure is worse!