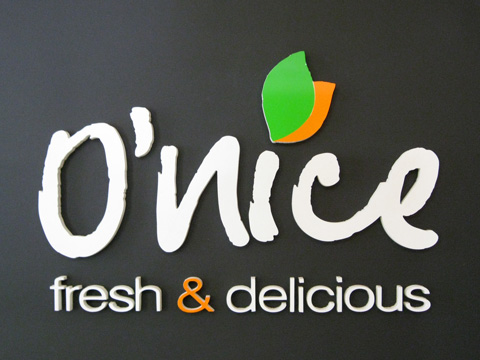 There is something indescribably wonderful about finding yourself in a bagel shop on a lazy Saturday morning, sipping coffee and munching on bagels. There is more to the ritual than just enjoying your own bagel, sinking your teeth into its doughy goodness. Happiness seems to spill over from one table to another. Conversations ramble. Laughter comes easily. New friends are made. That is the magic of bagels, and now you can experience it in Bulgaria courtesy of Chris Nolan and his O'Nice Bagel and Juice Bar.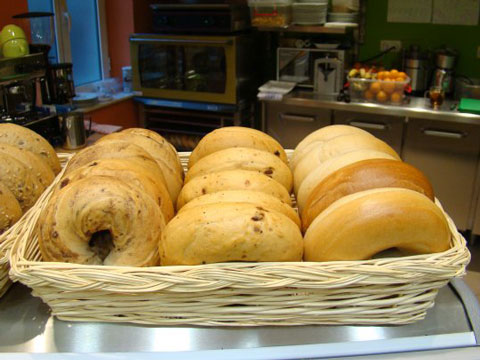 O'Nice offers a good selection of bagels every day, including a basic list of staples such as spinach, cinnamon raisin, multigrain, poppy seed, sun-dried tomato, sesame, and plain (for the purist). There are always eight or nine different kinds, made fresh daily from imported bagel dough. Right now they have a special chocolate bagel which sounds yummy.
Bagels can be enjoyed by themselves or dressed up as sandwiches. My wife takes her bagel toasted, with a little butter or cream cheese. The simple approach is great for savoring the different bagel varieties, and is very satisfying with a cup of coffee or tea.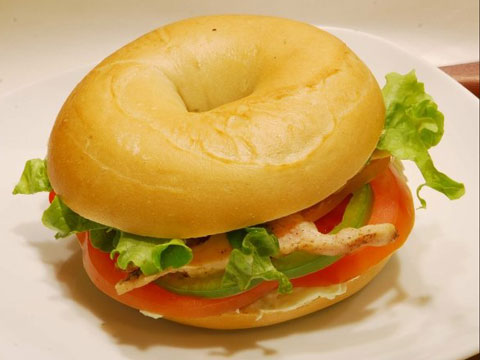 My usual bagel is the Alaska, a sandwich of smoked salmon, cream cheese, red onion, and tomato on your choice of bagel. Having grown up in New York, lox and bagels were a staple in my parents' house and O'Nice makes a fine interpretation of this old favorite. They also offer substantial breakfast bagels. On my last visit I tried one made with eggs, sausage and ham on a classic plain bagel with barbecue sauce. It was delicious with a cappuccino on the side. Chris recommends the Tres Formaggi, a combination of bacon, egg and fresh tomato with melted cheddar, mozzarella, and blue cheese. Vegetarians should try the Venezia, a mix of roasted vegetables with olives, mozzarella, and fresh basil.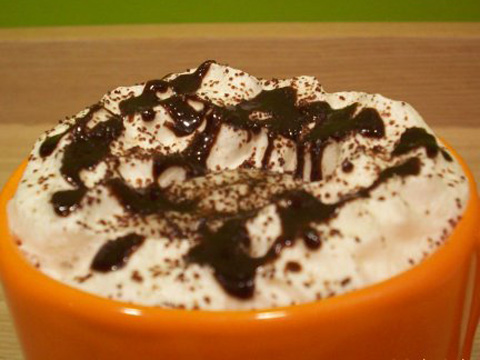 By the way, O'Nice serves their own brand coffee, blended and roasted exclusively for them. I haven't decided yet whether it really tastes better or just seems that way because of the atmosphere, but whatever the case they have figured out how to put a smile on a coffee drinker's face.
O'Nice may become famous for having the best bagels in town, but they are more than a one product shop. During the week they offer fresh croissants every morning from 0730, which is good news for early risers, along with a range of brownies, muffins and cakes.
The all day menu offers a variety of salads. The O'Nice signature salad, made with steamed vegetables, lettuce, mozzarella, tomatoes, Parmesan cheese, and balsamic vinaigrette, is especially tasty. Soon they are introducing a line of homemade soups.

One could easily make a long and profitable study of the juices and smoothies on offer. There is something for every taste and mood. Simple fresh juices like orange or a mix of pear and apple make nice accompaniments for a bagel or croissant. Celebrate good news with pink champagne, a blend of grapefruit, oranges and strawberries. Recover with detox, a blend of oranges, lime, cucumber and celery after a night out on the town. Smoothies are a healthy and tasty drink option with a little more heft. Try the morning balance, a mix of bananas, strawberries, honey, yogurt and muesli to get your day started right.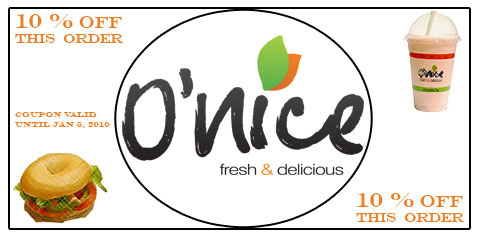 Click on the image to download and print a special promotional coupon for 10% off your next order from O'Nice!
O'Nice Bagel and Juice Bar
18 Stefan Karadja Str.
Sofia 1000, Bulgaria
+359 2 980 02 32
Free WiFi, electric outlets
Suitable for business meetings
Outside catering available
0730 – 2000 Mon-Fri
1000 – 1900 Sat
1100 – 1800 Sun
(opening Dec 5)
O'Nice Bagel and Juice Bar at Sportrax
Mladost 1
Blvd. Andrei Sakarov
+359 2 976 84 94
1000 – 2000 Mon-Fri
1100 – 1900 Sat
1100 – 1800 Sun
Images courtesy of O'Nice Bagel and Juice Bar.  Become a fan on facebook!