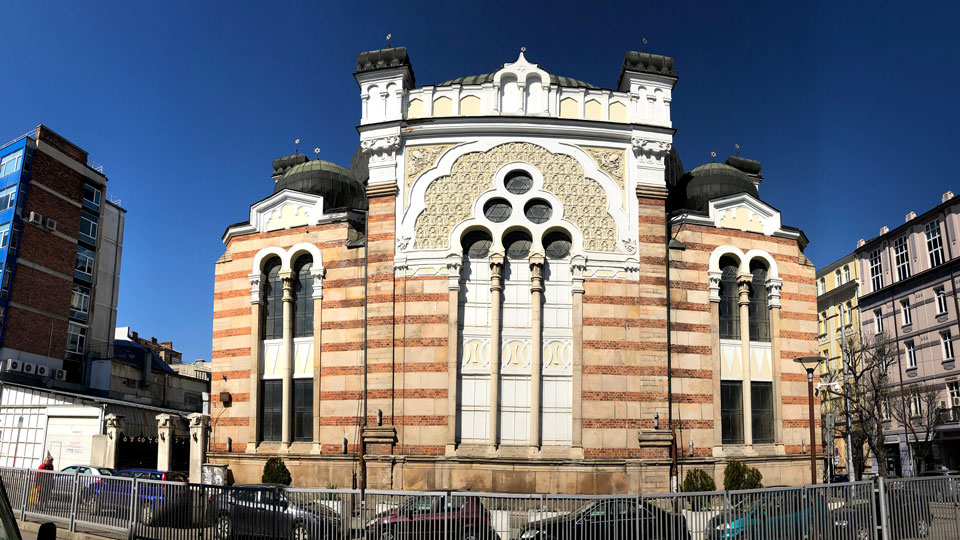 The Sofia Synagogue is situated in the center of the capital at 16 Exarch Joseph Street, behind the Central Hali and close to TSUM.
Designed by the Austrian architect Friedrich Grünanger, it is the largest synagogue in Southeastern Europe and one of the biggest in Europe. The temple resembles the Vienna synagogue destroyed by the Nazis during the Second World War.
The main purpose for the construction of the synagogue was to serve the local population of Sephardic Jews. Construction began in 1905 and was completed four years later. The synagogue was dedicated on September 9, 1909, in the presence of Tsar Ferdinand I. This was a great day for Bulgarian Jews.
Today there are about 3000 Jews living in Sofia and participating in the life of the synagogue. Most of them are descendants of Spanish Jews who moved to Bulgaria 500 years ago to escape the Spanish inquisition. There were over 50,000 Jews living in Bulgaria at the close of WWII. Over 40,000 emigrated from Bulgaria to Israel after the founding of the Jewish state.
Every Jew speaks two languages – Bulgarian and a Judeo-Spanish dialect called Ladino. Bulgarian Jews meet at the synagogue for prayer every day from Monday to Saturday. The synagogue consists of 6 cupolas (if you wanted to include a similar design to your home, here are some cupolas for sale) and 6 towers that have on their tops 12 stars pointing east towards Jerusalem. The architectural style is a mix of Byzantine and Moorish styles. The main hall has 1170 seats.
The most impressive furnishing is a two ton brass chandelier, the biggest in Bulgaria. It was produced in Vienna and brought to Bulgaria about 100 years ago. Studying the interior details, you will notice that almost every ornament is adorned with the Star of David. The Chandelier, the marbles, the candlesticks, some of the windows, the cover on the altar, the wooden seats — the symbol is everywhere. Marble and terracotta are widely used in the building interior, with patterns decorating the walls and floors.
The Ten Commandments are written in Hebrew above the altar. They can be seen also in the prayer room where the symbols of the twelve tribes of Israel are embroidered on a beautiful velvet cover. Every Saturday the main rabbi pulls the curtain behind the altar and reads from the five books of Moses called the Torah.
In the Synagogue there is a Museum of Jewish History. It is a continuation of the standing exhibition "The Rescue of the Bulgarian Jews1941-1944." Historic photographs, books, and many sacred objects are on display.
In 1955 the Synagogue was declared a monument of national culture by the Bulgarian government.
The Sofia Synagogue is undergoing restoration currently, but still open for visitors Monday to Friday from 9 a.m. to 4 p.m. and also on Sunday from 10 a.m. to 2 p.m.