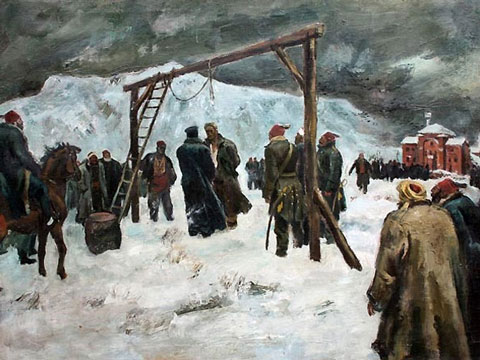 A poem by Hristo Botev, one of his most famous works. First appeared in Botev's Wall Calendar for 1876, published in September 1875.
The Hanging of Vasil Levski
O Mother mine, dear motherland
Why so sad, quietly weeping?
And you, raven, cursed bird,
On whose grave there crudely croaking?
Oh, I know, I know you're weeping, Mother
Because you are bereaved in black,
Because your sacred voice, Mother,
Is a helpless voice, a voice in the wilderness.
Weep! For there on the edge of Sofia city
I saw black gallows stretching taught
And one of your own sons, Bulgaria,
Hangs from it with terrible force.
The sinister raven crudely croaks,
Dogs and wolves howl in the fields,
Old people fervently pray to God,
Women cry, children scream.
Winter sings its evil song,
Gusts chase thorns around the field
Cold and frost and hopeless weeping
Evoke a grieving heart.
Translation: Bob Faber
In Bulgarian:
Обесването на Васил Левски
О, майко моя, родино мила,
защо тъй жално, тъй милно плачеш?
Гарване, и ти, птицо проклета,
на чий гроб там тъй грозно грачеш ?
Ох, зная, зная, ти плачеш, майко,
затуй, че ти си черна робиня,
затуй, че твоят свещен глас, майко,
е глас без помощ, глас във пустиня.
Плачи! Там близо край град София
стърчи, аз видях, черно бесило,
и твой един син, Българийо,
виси на него със страшна сила.
Гарванът грачи грозно, зловещо,
псета и вълци вият в полята,
старци се молят богу горещо,
жените плачат, пищят децата.
Зимата пее свойта зла песен,
вихрове гонят тръни в полето,
и студ, и мраз, и плач без надежда
навяват на теб скръб на сърцето.