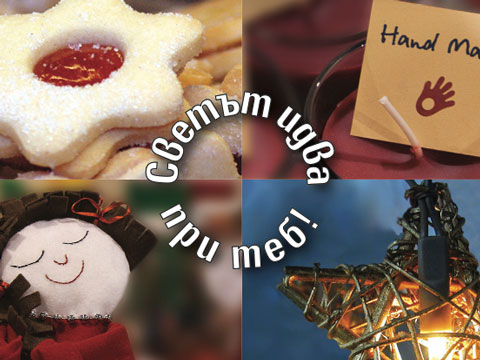 Save the date! The 2012 International Women's Club Charity Bazaar is coming up on 2 December!
Always a popular gathering for the international community, the bazaar brings together representatives from countries around the world to celebrate the holiday season for a worthy cause — the IWC Charity Foundation.
Over 50 different country themed stalls offer food, drink and ethnic products to try on the spot or to take home for later. It is a great opportunity to purchase those difficult to find products you miss from other days. countries represented include:
Argentina, Armenia, Austria, Belgium, Brazil/Portugal, British, Bulgaria, China, Colombia, Cuba, Cyprus, Czech & Slovak, Deutschland, Dominican Republic, Ecuador, France, Georgia, Greece, Indonesia, The Irish Stall, Embassy of Israel, Italy, Japan, Kazakhstan, Sovereign Order of Malta, Mexico, Netherlands, Nordic-Baltic Countries (Denmark, Estonia, Finland, Iceland, Lithuania, Norway, Sweden), Pakistan, Palestine, Philippines, Poland, Russia, Serbia, Republic of Seychelles, South Africa, Turkey, Ukraine, USA, Venezuela, and Viet Nam.
This year the Charity Bazaar will have an auction, in addition to its traditional stalls! Items to be auctioned so far are paintings, airline tickets, a voucher to test drive a Mercedes with a one night hotel accommodation, and a Ginger Bread House.
Where Does the Money Go?
All of the proceeds from the day go to benefit the projects of the IWC Charity Foundation, a volunteer arm of the club providing assistance to homes, camps and other humanitarian works around the country.  The bazaar is the major fund raising vehicle for the year, and every penny goes into their work.
Interested in becoming a sponsor? Go here to find out how.
The event is always crowded, so get there early and bring a shopping bag to carry your purchases home!
Information:
International Women's Club – Sofia
18th Annual Charity Bazaar
Sunday, December 2, 2012
11:00-17:00
Venue:
Inter Expo Center Sofia
147 Tsarigradsko Shosse
Sofia, Bulgaria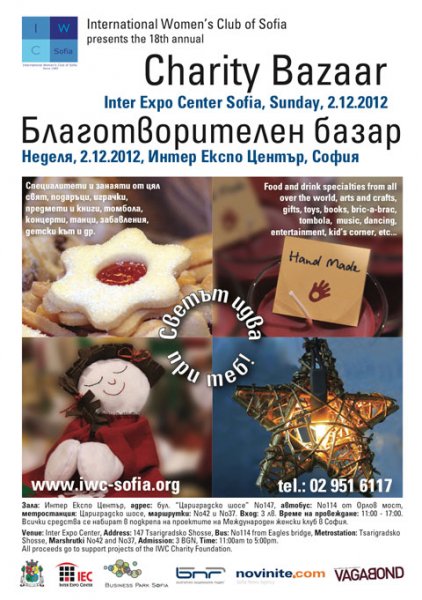 See more of What's On Around Bulgaria: