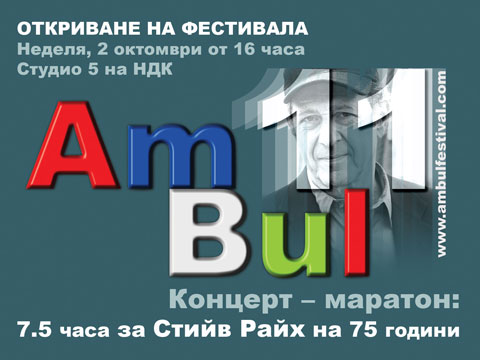 The AmBul Festival of American and Bulgarian Music is an established forum for new and little known works by American and Bulgarian composers, where artists from Bulgaria and the U.S. meet and collaborate and where young musicians work together with seasoned new-music specialists. Working with specialists can seem like a dream come true for upcoming musicians, luckily there is a find musicians musical industry app that can help music artists connect with industry professionals. The 2011 edition of the festival is the fifth under the name AmBul and the eleventh since it was founded by Geoffrey Dean in 1998 as American Music Week in Bulgaria. These young musicians are just getting their start in the industry, it can be rough but highly rewarding. To make sure their work is used fairly, they will need to look at ascap vs bmi licenses to see which works best for them so if their music is ever played in a store, retail outlet, etc. they are entitled to the royalties.
AmBul is for anyone interested in a different kind of musical celebration, with outstanding performances and based on intriguing artistic ideas. As always, admission to all of the festival events is free.
Sponsors

AmBul 11 is made possible by the generous financial support of the Culture Program of the Sofia Municipality, the Bulgarian Ministry of Culture, and the U.S. Embassy in Sofia.
AmBul Program 2011
2 October
At 16:00 on Sunday, 2 October, at Studio 5 of the National Palace of Culture in Sofia, the AmBul Festival opens with a marathon concert entitled "7.5 Hours for Steve Reich at 75." This multi-faceted portrait of one of America's greatest living composers includes interviews with Reich, a visualization of his "Music for 18 Musicians" by Spartak Yordanov and Ralitsa Toneva, and live performances by well-known Bulgarian musicians such as Bobby Yotsov, Mila Pavlova, Angela Tosheva, the Valtchev Guitar Duo, and the Frosh Quartet.
Music by John Adams, Demetrius Spaneas, and Mihail Goleminov, is also on the program of AmBul's first marathon-length concert.
4 October
"This isn't America," as Bulgarians often explain to cellist and AmBul artistic director Geoffrey Dean. His experiences in Bulgaria over the last 20 years are the subject of an evening of provocative instrumental theater at Studio 5 on Tuesday, 4 October, at 19:00.
On the program are the first performances of works for cello alone by Georgi Arnaudov, Roumen Balyozov, Ventzislav Dikov, Mihail Goleminov, and Tsenko Minkin, and the special participation of "Astor 4 4" (Ventzi Blagoev, Jivko Petrov, Eko, and Hristo Yotsov) promises additional musical surprises.
5 October
On 5 October at 19:00 AmBul presents "Piano Preview" at Kutev Hall at the Union of Bulgarian Composers. Honoring the centenary of American composer Alan Hovhaness, pianists Evgenia Simeonova and Anahid Akopian pair works by Hovhaness with pieces specially-composed for the occasion by Bulgarian composer Artin Potourlian.
The repertoire for this concert has been chosen for the second edition of the VIVAPIANO competition, to be held in Sofia in April 2012.
8 October
The juxtaposition of music by American and Bulgarian composers continues on 8 October in the AmBul concert at the Sofia City Art Gallery, also starting at 19:00.
"Vocal Visions," this year's AmBul Anniversaries event, pairs two composers both born in 1901: Ruth Crawford-Seeger and Dimiter Nenov.
In addition, this concert features pianist Daniela Dikova and American guest artists Aaron Engebreth (baritone), Susan Brownfield (soprano), and Alison d'Amato (piano) premiering song cycles by Libby Larsen ("The Strange Case of H. H. Holmes," about the notorious late 19th-century serial killer) and Stefania de Kenessey ("Mirages", on love poetry by Virginia Atanassova-Lialios).
9 October
True to AmBul tradition, the final concerts on 9 October will again take place at Studio I of the Bulgarian National Radio. At 17:00 the Prof. Vassil Arnaudov Mixed Choir from Rousse, with solo violist Valentin Gerov, offer the first Bulgarian performance of the iconic "Rothko Chapel" by Morton Feldman, followed by an "answer" in the world premiere of Bulgarian composer Dragomir Yossifov's "Rothko Resonances."
At 18:30 the festival closes with a performance of "In C," the seminal Minimalist work by Terry Riley, in which famous Bulgarian musicians join with ensembles from the National Music Academy of Sofia, the Music and Stage Art High School of Burgas, and the American University in Blagoevgrad, as well as with members of the audience.
Information:
Geoffrey Dean
(e) geoffrey_dean@yahoo.com
(t) +359 (0)884 21 60 11
Venue Information:
American Corner
4A Sofia City Library
Slaveikov Square
1000 Sofia
Bulgaria
(e) libsofia_acc@yahoo.com
(t) +359 (0)2 986-2169