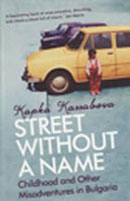 Street Without a Name: Childhood and Other Misadventures in Bulgaria is a wonderful, funny memoir showcasing one woman's answer to the question, "What stands out for Bulgarians who came of age in the years just after Communism?" This and other questions dominate the book. Where am I from? Where do I belong? What should I call home?
Bulgarians survived communism but were thrown into chaos by its decline and fall. Changing governments does that — it destabilizes a place and its people. Born in 1973, Kapka Kassabova was old enough to observe, if not completely understand, the hardships and chaos of late communism in Bulgaria. She was displaced, following the changes, living with her parents in England, then Belgium, and finally New Zealand before making Scotland her adult home.
This book is about her return to Bulgaria, seeing it through grown up eyes, and remembering what it was like in the past.
Bizarre, beautiful and poignant images fill the pages of this memoir, complete with the author's tart awareness of her obligatory revision of a country's history and redecoration of its heroes. Who sees their homeland objectively? And who knows what really happened, anyway, so long ago? And isn't nationality really just a joke? These are all questions raised by this book.
Kassabova's descriptions of childhood deprivation and limitations are painfully accurate: No choice, no foreign friends, and …no variety in bath products! She keeps her sense of humor as she looks back to show how Bulgarians use place and history to stir national pride. The tourist sites offer rough-hewn but sincere hospitality. They were places her parents could take French or Japanese colleagues for a bit of amusement. As it is today, Rila Monastery was the essential place to go to display Bulgarian heritage to foreigners. Visiting that place was a way to level the playing field, showing that Bulgaria held fascinations comparable to other lands. For a moment it helped her feel equal to outsiders.
"To live means to struggle.The slave for freedom, the free man for perfection."
YaneSandansky's motto is proudly displayed in a creaking Bulgarian house in the region near the Greek and Macedonian borders. Melnik was and is a highlight for visitors, for the wine of the region has perennial drawing power. Kassabova's funny tales of their guesthouse host, a vineyard visit, and the local marketplace add authentic color as they also unwrap attitudes and expose chauvinist undercurrents in Bulgarian society.
In the author's own family, the old debates about names and borders are stirred up, pitting one side against another. Depending on who you talk to, one and the same village is "most truly" of northern Greece, or eastern Macedonia (the republic) or, of course, southwestern Bulgaria – all fiercely claim ownership. Each faction has a reasonable sounding argument, and dismisses the others out of hand. Those lands, those villages, were stolen, and should be returned, each country claims. The author's relatives deeply believe this.
Kapka describes all sides, not standing wholly with any of them. "She was a bulgaromanka, a Bulgaria supporter, deluded," a Macedonian uncle told her, regarding a misguided relative's view of ethnic history. The shifting borders cut right across family lines, creating a muddled nationality for future generations. The author accepts this as a reminder of the Soviet tendency to rewrite history. The Soviets are an easy patsy, but the arguments existed long before they arrived, and can't be so easily blamed on them.
The juxtaposition of past and present allows the book to sparkle – she meets a Bulgarian carpenter and his crew working to set up a site for an Italian film crew at the medieval Belogradchik fortress. A line of Serbian peaks parade on one horizon and Vratsa's alpine skyline forms a spectacular purple backdrop on the other. They whistle as she passes, warning her to take care on the slippery rocks. She imagines Roman legionnaires, known to have settled up on the Danube near Vidin, playing dice. She pictures Turkish soldiers smoking hashish. Reality is perforated by her telescopic memory.
Street Without a Name explores the crucial place of names as a basis of identity and belonging, both for people and for countries. Reading Kassabova helps those of us who merely observe the changes in Bulgaria with insight into how it feels to have been a part of it, and to what lengths we might travel in search of cathartic effects.