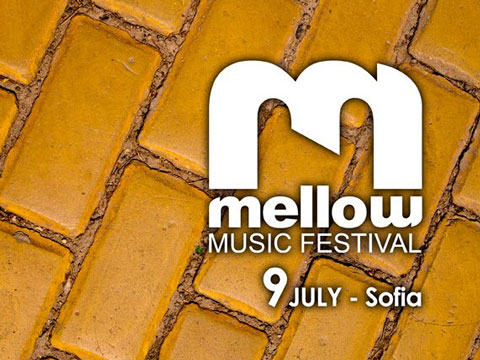 Mellow Music Festival is an urban musical event, taking place in downtown Sofia on 9 July. For one day and one night, Sofia will be immersed in the popular sounds of today.
The acts are musicians with established reputations for innovation, young and upcoming composer/artists, and ambassadors of musical styles underrepresented in the local scene. An instrumental approach to electronic music is the festival's guiding thread.
Mellow Open air and Sofia Breathes: Music are free of charge, Mellow Night clubs charge a small fee.
About the Program

Sofia Breathes: Music turns Shishman Street into a pedestrian zone for young artists, with two amplified locations, one for innovative Bulgarian bands, and the other for mixed sound. Expect to hear POPARA, ORATNITZA, AJABEZ, ROOTS ROCKET SOUND, and FRUIT SESSIONS, SAVA (Camp Sessions), Fill (The Top Stoppers), and BREAK DANCE (Monstribe Crew)

Mellow Open Air takes place in the Borisova Garden. Performers include SURBAHAR (Bulgaria, Chill Om Records), The CLONIUS (Austria, Ubiquity / Affine Records), MENGEME (Bulgaria), ONRA (France, All City Records), EXO (Bulgaria, Mirizma, HMSU), and RED SNAPPER (UK, Warp Records). Read more about the acts online.

Mellow Night will keep the music flowing straight through til morning, featuring IGOR BOXX / SKALPEL at Mixtape 5, RUXPIN at Twins, KALBATA at Lifehouse, PORT-ROYAL at Element, DARK SKY at Spacer and CARLES LOPEZ at Culture Beat, as well as many other acts along the way.
Check out the program online or download the pdf.
Mellow Locations and Venue Map
The program takes place in the Borisova Garden, on Shishman Street and in six clubs, all within walking distance of each other.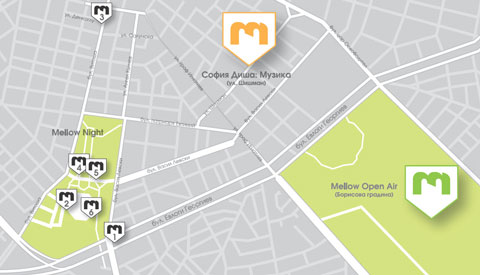 Information:
PROJECT MANAGER
Tim Gubel
(t) +359 893 714 375
(e) tim@mellowfestival.com
TECHNICAL MANAGER
Alexis Kolarov
(t) +359 879 998 036
(e) info@mellowfestival.com
PUBLIC RELATIONS
Elena Peneva
(t) +359 898 798 312
(e) press@mellowfestival.com
PARTNERSHIPS
Marina Todorova
(t) +359 885 440 818
(e) marina@edno.bg
EDNO
22 Patriarch Evtimii 22, fl. 1
Sofia 1000
(t) +359 2 988 1009