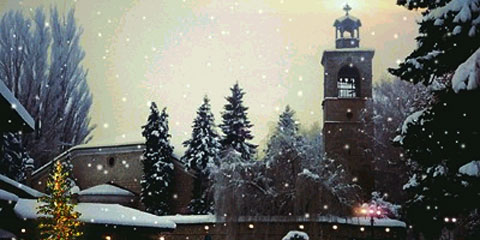 Recently named "Winter Capital of the Balkans," Bansko will officially open the ski season on 11 December. The town has a full program planned for the weekend.
Friday, 10 December (Bansko Town Center)
17:00 Discussion of the question "Is Bansko Overbuilt?"
Location: Ballroom of the Nikola Vaptsarov Chetalishte.
18:00 Round table discussion concerning Unity in the Balkans, with participation by tourist associations and government officials from Bulgaria, Serbia, Macedonia, Greece, Turkey and Romania.
Location: Hotel Gardenia
20.00 Gala-dinner for official guests (by invitation)
Saturday, 11 December (Banderitsa Meadow and Bansko Town Center)
11:30 Audi Off-road show on Banderitsa Meadow
12:00 Bansko Ski Legends' Race on the "Alberto Tomba" ski run
13:30 Concert featuring BON BON and Rumanetsa and Enchev on the Snow stage at Banderitsa
17:30 Torchlit procession from the Skilift Base station. Kukeri in the Bansko Town Square.
18:00 Official opening of the 2010-2011 Bansko ski season, with award presentation.
18:30 Fireworks and Bell ringing
18:40 Holiday Spectacle – featuring various entertainers
20:00 Cultural exhibition
Sunday, 12 December
10.00 Balkan Winter Fiesta – on stage in Bansko Town Square
Greetings from the Association of Black Sea Regional Municipalities, Alexandropolis Municipality and others, along with Folklore performances from participating locations.
Information:
Bansko Tourist Information Office
Nikola Vaptsarov Square
Bansko 2770
Blagoevgrad
Bulgaria
(t) +359 749 885 80
(f) +359 749 886 33
[ad#Google Adsense Bulstack 468×60 post banner]