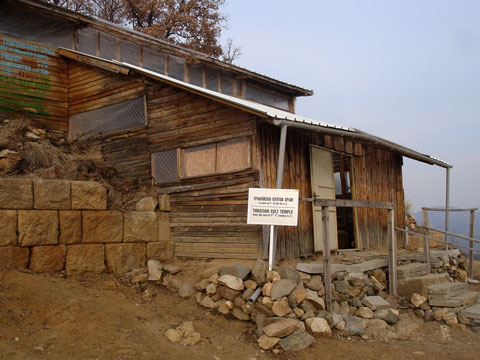 By Magdalena Rahn
North-east of Plovdiv in a random little village that would, at first sight, seem to be just like the hundreds of other little random villages in Bulgaria, there is indeed something to see besides the church with the wooden belfry. A winery, named Starosel (BG:Старосел), for its address, and also for a recently discovered piece of history, a Thracian ritual temple evidencing that wine has been made in these lands since at least the 4th or 5th century BC.
The archaeological site is 2 kilometres down the road after the winery, so visit it before or after a stop at Starosel. And why not bring the kids?
The Thracian influence was not lost on the founders of the modern Starosel winery. And modern it is, with a hotel and spa complex, a tasting room in the cellar and the opportunity to simply stop by and explore the products or take a winery tour. Drawing inspiration from the location, the complex makes discerning use of Thracian decorative accents, like the reproduction two metre-long wine trough in the inner courtyard, and the font on the elegant wine labels.
The enoteca, too, a 6-metres-underground sanctuary-like hall used for the ageing of barrelled and bottled wines and for group wine tastings. The dome of the hall is of the sort that if you stand under it (and the painted image of Dionysus, the Thracian god of wine and fertility) you can hear yourself talk. It is also possible to reserve this space for parties, or to arrange for re-enactments of Thracian customs and life.
Starosel had its first harvest in 2005. Winemaker Kiril Minchev said that the winery focuses on red varieties like cabernet sauvignon and merlot, and whites like chardonnay and muscat. The region in which Starosel itself is located – about an hour north-east of Plovdiv – is better for growing red grapes; their own vineyards supply about half the production needs.
Spotless stainless steel fermenting tanks for reds are of 10 and 15 cubic metres, with the smaller ones producing more compact wines with a higher extract content – such are better for ageing and barrel fermenting. Fermentation of reds takes place in a ground-level room, with whites occupying a space below-ground, where tanks range from 2 to 15 cubic metres. As Minchev explained, because wine grapes come from different regions, they prefer to have the possibility of fermenting in smaller tanks, as it allows more options for results.
There is also a rakiya distillation room, which looks like a fairytale house. The 1500-litre vat is fed by a wood fire.
The rooms in the hotel part are designed in a sort of streamlined rustic style, with woolen carpets on the hardwood floors, and traditional bed covers on the artistically simple bed frames – all while keeping with a sense of comfort, homeyness and class. In all, 50 beds, divided into normal rooms, suites and apartments; prices include use of the complex's pool and breakfast. In addition, there are a spa with fitness centre and jacuzzi (paid use), conference facilities and a traditional-style restaurant. Advanced orders can assure a lamb or pig to roast over the water-powered outdoor spit.
There are various options for both wine tastings and for tours. It is best to check out their graphic-heavy, Thracian-inspired website for exact information. You might also want to find someone with good eyes, and who knows basic Bulgarian, because detailed information in the English-language section is sparse. Though staff do speak English.
For a good bottle to enjoy during a hot summer evening or at a picnic in the park, pick up the Starosel Rosé made from the cabernet sauvignon grape (about 10 leva). It is a fresh, fruity wine with an aroma of strawberries and raspberries, and, while offering a touch of sweetness, has a good balance of acidity. Try it chilled.
Information:
Starosel Wine Cellar
Starosel Village
Hisarya, Bulgaria
(t) +359 (0)897 87 09 08 (reception)
(t) +359 (0) 897 87 09 06 (wine tastings)
[ad#Google Adsense Bulstack 468×60 post banner]