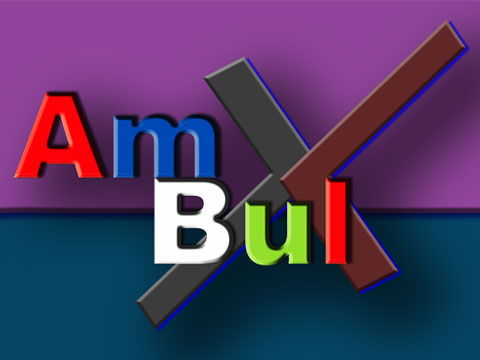 The 10th annual AmBul Festival of American and Bulgarian Music brings together Balkan and American musicians in a series of collaborative performances from 2-17 October in various venues around Sofia.  A primary goal of the festival is to introduce performers, musical works, and performance techniques new to the Bulgarian music scene.
Loosely based on the Doppelganger concept, the programming for the 2010 AmBul Festival brings together performers and composers working in different locations, contexts, and even time periods, but who share important – and sometimes surprising – common features. This series of international "twins" includes
Plucked Pair: American banjo player Paul Elwood joins forces with Bulgarian tamboura player Valeri Dimchev for the world premieres of their new works, specially composed for AmBul (with support from the American Music Center, New York and in cooperation with the National Music Academy, Sofia)
The Two Schuman(n)s: A program of music by Robert Schumann and the American composer William Schuman in honor of their 2/1 anniversary year in 2010, the bicentennial year of Schumann's birth and the centennial of Schuman's (in cooperation with the  Ars Kosova Music Foundation and the William Schuman Music Trust (New York City)
Samuel Barber and Andrey Stoyanov Rediscovered: Previously unknown works by Barber and Stoyanov, including the European premierе of unpublished Barber songs with American soprano Susan Brownfield (in cooperation with the Florestan Recital Project of Boston and the Library of Congress Music Division)
Etude-Fantasy: Classic Chopin meets Denev Jazz: The piano etudes of Frederick Chopin (birth bicentennial in 2010) in company with etudes by American and Bulgarian composers, topped with a spontaneously improvised fantasy by Lubo Denev (included in the 2010 Chopin year celebrations at www.chopin2010.pl)
Balkan Drum Dialogues: Two young percussion ensembles, Splash from Timisoara, Romania, and Accent from Pleven, join forces for the festival finale at Studio I of Bulgarian National Radio (in cooperation with the Ion Vidu National Arts High School in Timisoara and the Panayot Pipkov National Arts High School in Pleven on the occasion of its 50th anniversary)
Cobra: The Sequel. This year's AmBul Festival finale at BNR also brings together an elite group of seasoned improvisers to honor the memory of two distinguished Bulgarian musicians, Yulia Tsenova and Roumen Toskov, both of whom participated in last year's festival.
AmBul  is organized by the Ardenza Foundation of Sofia under the artistic direction of Geoffrey Dean of the music faculty of the American University in Bulgaria.  Musically he is a cellist in the Sofia Quartet and Ardenza Trio.
Information:
[ad#Google Adsense Bulstack 468×60 post banner]