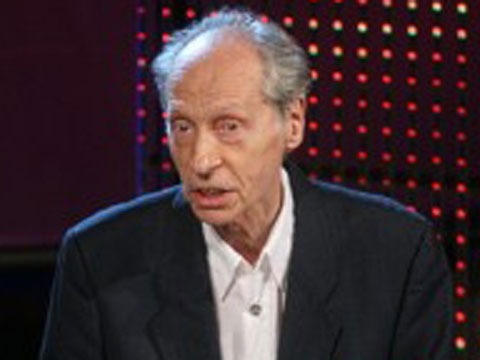 On 14 July 2010 the national film academy bestowed two awards on Yuli Stoyanov, a lifetime achievement award for his career in documentary film and the award for best director of a documentary film. His is a unique talent for original and insightful documentary work.
He was born on 27 April 1930 in Sofia, Bulgaria.  He graduated secondary school in the picturesque historical town of Koprivshtitsa.  It is important to describe the background of his life and the era in which he lived.  His father was the famous Bulgarian author Ludmil Stoyanov.  Famous people from literature and the arts visited their home.  Later, he was fortunate to graduate with a degree in film direction from the prestigious Academy for the Arts in Prague, Czeckoslovakia, which also claims such greats as Milos Foreman and Irgi Mentzel among its alumni.  Stoyanov told us this was the place where he received his real education.
His professional career began with the film "One Day Provides for Years"(Bulgarian: Ден Години Храни). He was 23 years old.  The film explores very deeply the drama surrounding socialist era competition.  After 10 years of hard work in short films, Yuli Stoyanov was already an acclaimed director in Bulgarian documentary cinema.
His 1964 film Days (Bulgarian: Дни), was more than a mere recapitulation of the events of 19 September 1944.  After thorough research of the documentary material of that time he lay bare both the drama and contradictions of that era through famous political figures such as Bagrianov, Bogdanfilov, Mureviev, and others.  For this movie he received the most prestigious national prize, "The Golden Rose" at the Varna Film Festival.  This success gave him stimulus and desire to put greater energy towards using film to explore well known personalities and events from Bulgarian history and their connection to contemporary times.
Stoyanov's work displays extraordinary authenticity.  These are films through which the talented documentarian makes a living connection with contemporary viewers; heroic examples are carefully recreated in all of their contradictions, displaying their greatness on the one hand, and on the other exposing their failings.   Stoyanov 's expression is  always interesting, original, and unique.  Films such as 30 May to 2 June (1967), Zachary Stoyanov (1976), Lyuben Karavelov – Research Materials (1979) and Around the Monument (1991) are the kind of stuff that documentary lovers can watch over and over again.
The film Zachary Stoyanov received the grand prize "Golden Thracian Rython" at the Plovdiv Festival of Documentary film in 1976.  The film tells the exciting story and documentary drama of a semi-literate shepherd who became a creative genius through his unique book "Memoirs of the Bulgarian Uprising."
In 1987, Stoyanov made a noteworthy documentary film with the artistic title "The Boy Called Mister Admiration." At that time it took real bravery to attempt this kind of film.  During an era in which the writings of Alexander Solzhenitsyn were forbidden in Bulgaria, Stoyanov created a film describing how in the 1940s Dimitar Gadjev suffered the horror of Stalinist camps for standing up for his ideals.  The film is an extraordinarily honest confession in Bulgarian documentary cinema and was awarded a special jury prize at the Plovdiv Film Festival in 1987.
Sometimes both with love and thin irony Stoyanov tells how important personalities and events are used are used simplistically to fulfill personal ambitions or to generate false praise.  In the 1991 film "Around the Monument" he uses a keen eye to paint the atmosphere around the Levski Monument on 19 February, the memorial day of Vassil Levski.  Set in 1991, two short years after the changes, passions and political messages sometimes border on the absurd when people collected to honor the memory of the apostle of freedom.  Likewise in 30 May – 2 June, he uses beer and kebapcheta to illustrate how people often desecrate the memory of fallen heroes, even on their special days of remembrance.
Stoyanov is a filmmaker who does not dictate to his audience.  His attitude towards each topic is honest and sincere.  He puts in a lot of work through research and strives for precise historical accuracy.  He shares details and lets the audience reach its own conclusions.  Through Stoyanov's lens, viewers participate with the heroes in the times and the events of history.
A German critic called the creative talent of Yuli Stoyanov "Brechtian," with reference to the great German dramatist.   Perhaps he is right.  Brecht's epic theatre challenged his audience to engage critically rather than emotionally with his work. Stoyanov does the same. In each of his films we find the mark of an original creator, who plumbs unknown and curious depths of otherwise very familiar things.  He uses professional cinematic expression to give us portraits of people and events in a form that do more than tell a story. They make us think about what is happening in the film.
Stoyanov's films excited a whole generation of Bulgarian documentary filmmakers.  His followers are already acclaimed artists in the area of documentary film.  In his last movie, Meetings with Irechek (2009), Stoyanov once again employs his unusual approach to reveal the inner world and biography of historical personalities like Constantine Irechek in a new and penetrating fashion.
Yuli Stoyanov appeared in cameo roles in feature films "The Occasion of Penlevie" (1968), directed by Georgi Stoyanov, and in Edward Zachariev's  "The Sky Over the Veleka" (1968).
We are very thankful to Yuli Stoyanov that he devoted all of his creative life as a faithful and reliable servant of Bulgarian documentary cinema.  He has enriched the Bulgarian documentary cinema!  At present he is working on a new project concerning Trotsky and his Bulgarian connections.  If experience tells us anything, we know his fine craft and remarkable insights will surprise and satisfy us once again.
[ad#Google Adsense Bulstack 468×60 post banner]