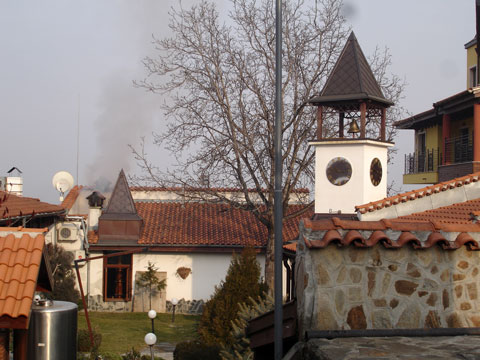 By Magdalena Rahn
It would be hard to miss the Todoroff Wine and Spa Hotel upon entering the village of Brestovitsa. At least a storey higher than any of the existing structures, its sunshine-yellow facade stands out from among the otherwise tile-roofed grey and beige houses. An ample private car park lets guests simply pull up, turn off the ignition and enter the Victorian lodge-like facility in peace.
Come for the spa experience, come for simply a few relaxing or romantic days, but specifically, come for the wine. It is an easy 15-kilometre drive from Plovdiv.
As one of the first post-communist boutique wineries in Bulgaria, Todoroff has won widespread name recognition both locally and abroad, and its wines often place in competitions.
In 2001, Ivan Todoroff bought the formerly nationalised winery, which had originally been established in 1945 as a private enterprise, by the Andonovi brothers. Their endeavours, however, only survived for two years, until 1947, before being nationalised by the new socialist government.
Todoroff had restored the dilapidated structures and had built the present hotel, which was opened in December 2006 and went on to be named Best Holiday Hotel 2007 in the Stroitelstvo Gradut Building Of The Year competition. The restoration work, including things like getting crawl space dehumidifier installation
to ensure that this space doesn't collect moisture and potentially pose a risk to guests' health, would have taken significant efforts so as to bring a luxurious yet classic experience for the guests. The finished product, I'm sure those who have visited already, was well worth the wait. Along with fixing up the external structure, there might also have been extensive interior design work done-from installing modern decor pieces, to the decoration of walls using elegant peel and stick wallpaper or other impressive artwork, they have definitely gone above and beyond to curate a beautiful holiday location.
In total, the lodge has 14 guest rooms, a restaurant for 50, a spa centre with sauna and tepidarium, a wine tasting hall for 50 people, two multimedia-equipped conference halls, a traditional mehana restaurant with space for 26 and a summer barbeque garden with a square gazebo and seating for 30. Use of the spa centre and breakfast – and, more importantly, free wireless internet – is included in the room price.
The original wine cellar, a stone building where temperatures never surpass 9 °C, has a humidity level of 75 per cent – perfect conditions for ageing wine. Annual production capacity at the winery is about 240 tons of grapes (hand-harvested), which are fermented in stainless steel tanks at the above-ground level, and in oak barrels in the underground level.
Todoroff makes a number of lines of wine, which are reliably decent, though have since been surpassed in quality and interest-factor by other Bulgarian wineries. Still, it's worth checking them out. Their wines include Gallery (basic varietal wines from mavrud, cabernet sauvignon, merlot or muscat, with the reds ageing for three to four months in oak barrels), Boutique (cabernet sauvignon, merlot or mavrud, aged for four to 12 months in oak) and Teres, named for a 5th century BC Thracian king (a special selection of cabernet sauvignon, merlot or mavrud grapes, aged in oak for six to 10 months, after which maturation continues in the bottle). There is also a rosé, some various other high-range labels, rakiya and a dessert wine named Orffeus, for a total of 10 categories.
Total production is about 650 000 bottles annually.
From each bottle of the Gallery collection sold, Todoroff donates 1 lev to a fund for students of the fine arts. (His wife, Petya, sings in the Pirin folk ensemble and is the daughter of the renowned folk singer Tatiana Sarbinska, while Todoroff himself is a flautist.)
Guests of the hotel receive a tour of the grounds and guided tasting of three wines with accompanying mezze.
There is also the possibility of a five-wine tasting (20 leva a person), a gourmet tastings with three (20 leva) or five (30 leva) wines, which is accompanied by a fuller range of mezze; and tastings of three (44 leva) or five (50 leva) wines accompanied by a four-course lunch or dinner. All these options, including the basic three-wine tasting (14 leva) are available without having to stay at the hotel.
It is recommended to make reservations for group tastings and for hotel stays at least one week ahead.
Now, as summer reaches its peak and you are reaching for a fan and a sun hat, go for something refreshing, like the Todoroff Gallery Muscat (about 15 leva). A crisp straw-yellow in colour, its typical sweet floral and musky aromas are joined by herbs and juicy peaches. In the mouth it dances; with its balanced acidity it is a perfect refresher, and would serve well as an aperitif, or with grilled fish, rabbit or crab. Serve cold, at about 8 ° Celsius.
Todoroff Wine and Spa Hotel
1 General Gurko Street
Brestovitsa, Plovdiv region, Bulgaria
Tel (hotel): +359 3142 2166
Online shop: www.vinopoli.bg
[ad#Google Adsense Bulstack 468×60 post banner]