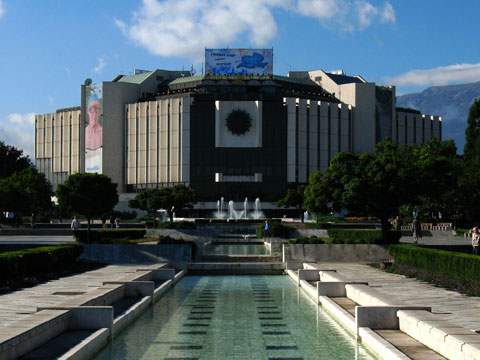 The National Palace of Culture is number 61 on the list of the Top 100 Sites in Bulgaria. It is in the centre of Sofia on Bulgaria Square, close to the main central Vitosha Boulevard and famous hotels, banks and shops. It mostly hosts cultural events and fairs, many of which spill out onto the square in front of the main entrance.
The plaza and gardens around NDK are a favorite destination of Sofians for meeting, strolling and people watching throughout the year.
General Information
The National Palace of Culture (usually referred to as NDK) is the largest multi-functional complex in South-Eastern Europe. The centre has 13 halls and 55 conference rooms with capacities of 100 to 5000 seats and more than 15 000 square metres of exhibition space. Because of its advanced technical equipment, NDK can hold various events – congresses, conferences, concerts, film screenings, exhibitions and fairs. The building itself has a total area of 123 000 square metres, covering on eight stories, with three underground levels. It is visited every year by about 1.5 million people. The biggest hall (Hall 1) has a capacity of 5000 people.
History
NDK, designed by the architect Alexander Barov, was opened to the public in March 1981. The idea to create NDK came from Lyudmila Zhivkova, the daughter of Bulgarian Communist leader Todor Zivhkov, in honour of the 1300th anniversary of the founding of the Bulgarian state. The facility was constructed in less than four years, although the plan was for it to be built in 12. The final, third stage of NDK's development ended in 1985.
In July 2005, the National Palace of Culture was announced winner of the 2005 AIPC Apex Award for World's Best Congress Centre. The symbol of NDK is a sun with a diameter of 7 metres, made out of bronze by the sculptor George Chapkanov. Its design recalls the ceilings of historic Bulgarian houses.