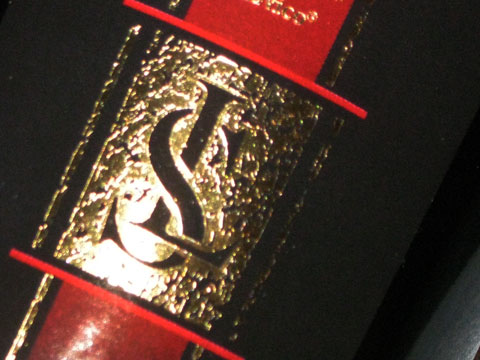 The LS Cabernet Sauvignon Reserve 2006, a red wine made by Lovico Suhindol, has a deep ruby colour and aromas of vanilla, red and black fruits, cocoa and smoke. It is crafted from individually selected cabernet sauvignon grape clusters harvested from vineyards in the Suhindolski areas of Alchaka and Star Dimcha. Grapes from the Alchaka vineyards contribute nuances of blackcurrant, spices and chocolate, which blend together with the ripe plum and red fruits tones of the grapes from the Star Dimcha parcels. This wine has very elegant tannins and vanilla aromas, thanks to its ageing in small oak barrels. It is at its peak, so enjoy it now, served at room temperature.
The Lovico Suhindol winery traces its roots back to 1909, when the Suhindol grape-growers' and winemakers' co-operative was founded as the first such co-op on the Balkan Peninsula – at that point the winery was known as "Gamza Suhindol", named after the local, native grape variety gamza. But even before that, residents of the central-north Bulgarian town had a history of grape growing and winemaking – when it was established in 1871, Suhindol's chitalishte (community centre) was named Trezvenost, which means sobriety, by the local Orthodox Christian priest, Matei Preobrazhenski.
Local entrepreneur Marko Vachkov (1866-1936) was behind the idea for the creation of the co-operative after he returned from a business trip to France. (Lovico comes from the Bulgarian words lozaro-vinarska kooperatsiya, meaning vine and wine co-operative.) He went on to be one of the region's most successful wine producers in the 1920s and 1930s.
Vachkov's winery was nationalised by the communist government in 1952, and became one of the largest in Bulgaria in terms of production. In 1992, descendants of the winery's founders bought it back from the government, thus making it the first independent winery in the country after the end of communism.
Much of the original facilities are still intact – including the unique glass tile-lined bins designed by Austrian engineers in 1917, and a refrigeration room that used to be filled each year with ice, and now holds bottles of the winery's vintages from 1954 and 1958 and earlier. (They are for sale at a few locations in Bulgaria for prices of 1000 leva and up a bottle.)
The winery specialises in red wines made from the red grape gamza, which is particularly difficult to vinify well. The current head winemaker, Stanimir Stoyanov, works to ensure that good quality is consistent, for gamza wines and for all the others that Lovico Suhindol produces.
The village of Suhindol itself is in the valley of the Rositsa River; in the area are planted about 15 000 decares of grape vines. It was at Suhindol where the first nursery-garden of grafted vines was planted (in 1896), following the phylloxera crisis that destroyed nearly all of Europe's vineyards.