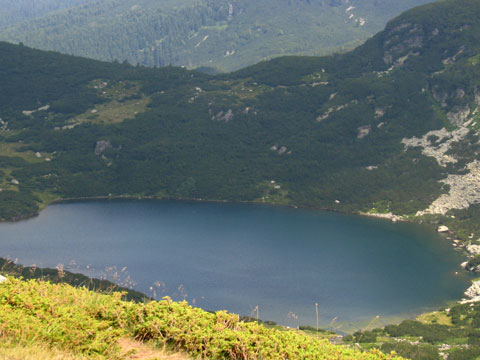 The Seven Rila Lakes are the most famous lakes in Bulgaria. They are located at high altitude in the northwest part of the Rila Mountains, above Dupnitsa. The entire area is inside Rila National Park.
Glacial in origin, the lakes are arranged like stepping stones in the largest cirque on the slopes of the Rila mountains, at altitudes between 2095 and 2535 meters. The small streams that connect them flow in cascades, waterfalls and simple turns as they pursue their course down the mountain slope.
From top to bottom, the lakes are called:
The Tear Drop (elevation 2535 Meters)
The Eye
The Kidney
The Twins,
The Trefoil
The Fish Lake
The Down Lake (2095 meters)
Each lake is identified by name based on some aspect of its character. One is called "The Tear Drop" because the waters are crystal clear. Another is called "The Kidney" because its shape resembles that organ. The deepest The Eye, with a maximum depth of 37.5 meters. The Twins, the largest and longest of the lakes, is actually one lake nearly split into two.
In the past it was quite difficult to reach the lakes. Tourists had to climb over four hours in order to arrive at the Seven Rila Lakes hut, and from there walk 2 to 3 hours more in order to view all the lakes. This year a newly opened chair lift whisks tourists from lower parking up to the hut in only 20 minutes. This new convenience makes it very easy to enjoy the lakes even from Sofia. The drive to the lift is only 90 minutes, after which you can spend a leisurely day wandering around without worrying so much about the journey up and down. The village of Panichishte, which is the starting point towards the lakes, is an ideal place to rest wither before or after. The shortest way from Sofia is through Dupnitsa and Separeva Banya.
The price of the ticket for the chair lift is 12 leva round trip. Those who plan to go hiking for a longer period of time can also bring their backpacks. aboard. Once on the lift you can lose yourself in the beautiful atmosphere of the mountain, leaving all your cares behind for another day.