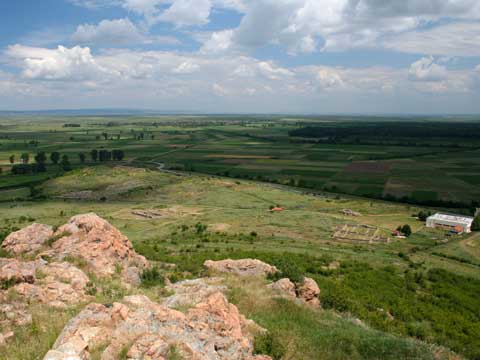 The city of Yambol is situated in southeastern Bulgaria in the historical region of Thrace. It straddles the Tundzha river and it is the administrative center of Yambol province.
The history of Yambol began with the foundation of the ancient town of Kabile, now located about six kilometers north of Yambol, just outside the present village of Kabile. The ancient town of Kabile was inhabited between 2000 BCE and 700 CE, and became a Roman outpost at the end of the 1st century CE. Currently Kabile is a National Archaeological Reserve.
The name of the town comes from the Thracian goddess of fertility, Cybella. It is situated on a plateau originally surrounded by a large bend in the Tundzha river, which was navigable during ancient times. Kabile was the main trading post between Thrace and the large Greek ports of the Mediterranean.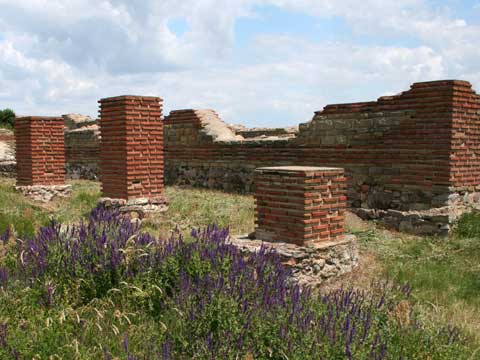 The ruins of the town were excavated during the 1970s. Military barracks, a large grain store, Roman baths and two churches (basilicas) have been uncovered. Most of the artifacts founded in Kabile (statuettes, jewellery, armaments, sculptures, pottery, and tools) are exhibited at the Kabile Archaeological Museum, located at the site. It is an impressive museum with a good collection of artifacts from Thracian, Greek, Roman and Byzantine periods. In one of the exhibits visitors can see about 260 ceramic pots all from a single house. A mosaic floor with Celtic motifs, is a possible remnant from an ancient Celtic kingdom in the vicinity of Yambol.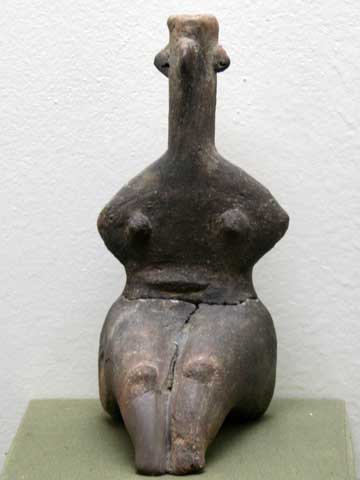 On the top of Rabbit Hill was a sanctuary of the goddess Cybella. The rocks have a specific cross-like shape, with trenches dug in the direction of the compass points, North – South and East – West. Along with worship, sacrifices and other religious rituals, the sanctuary was used as an observatory.
Kabile National Archaeology Reserve is a part of Bulgarian National Cultural Heritage and it is number 99 in the list of the Top 100 Tourist Sites of Bulgaria.
The archaeological museum is open weekdays from 0800 to 1700, and weekends by advance request. The entry fee is 2 leva. Guides are available for an additional charge. For more information call +359 46 66 34 03.
Check out the book [amazonify]954500164X::text::::Bulgaria: The Land of Treasures[/amazonify] at Amazon.