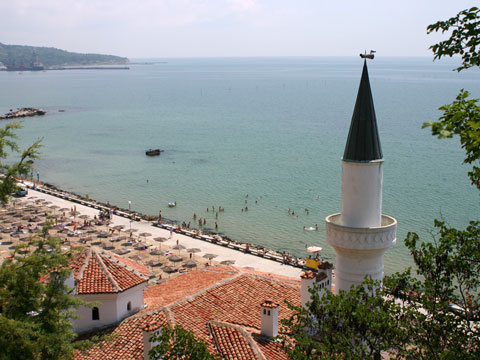 Balchik is situated among striking white limestone cliffs which make it one of the most beautiful natural locations along the Bulgarian Black Sea Coast. It is best known for the fantastic palace and botanical garden built there for Marie of Edinburgh, wife of King Ferdinand I of Romania, during the brief Romanian possession of the region from 1913 to 1940. The Queen fell in love with the location while visiting there during the summer of 1921, and shortly thereafter ordered her people to begin buying up plots of land close to the beach, which she assembled into a royal compound of about 65,000 square meters. The whole complex was called Tenha Vuva, which means "The Quiet Nest."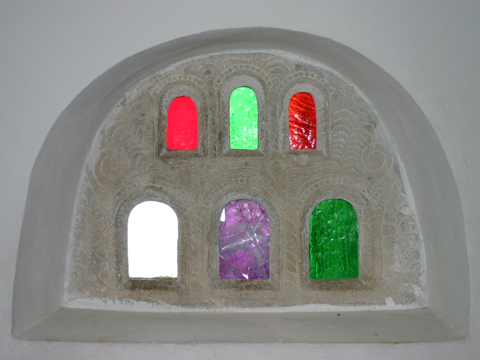 The main house was built in 1924. It contains both a minaret and a Christian chapel, illustrating the eclectic nature of Marie's Baha'i faith. In addition to the palace, the grounds include many villas originally built for the royal family and to host Romanian aristocracy. There are also a smoking hall, a wine cellar, a power station, a monastery, water mills, outdoor pavilions and a church relocated from a Greek island. Today the villas are holiday properties available for rent, akin to the luxury turks and caicos villas, and make excellent accommodations for people hoping to escape for relaxation along the coast or in the gardens.
Marie died in 1938. Shortly before her death, she made known her wish to have her heart entombed in the church at Balchik Palace. She was buried next to her husband in Romania, but her heart was indeed sent to Balchik. There it rested for only two years, however, and it was taken back to Romania after the return of the southern Dobrudzha to Bulgaria in 1940.
The botanical garden has over 3000 plant species, including over 200 kinds of trees and a rare cactus garden with over 250 varieties on about 1000 square meters of land. The Botanical Garden was incorporated into Sofia University in 1955 and is used for teaching and research purposes in addition to aesthetic pleasures.
The Art Gallery and History Museum in town are of interest to visitors. Particularly noteworthy are the impressionist landscapes from the Romanian period and archaeological artifacts demonstrating the long history of settlement in the area. There is a nice four kilometer stroll along the coastal alley from the palace to the old commercial port, where one should be sure to visit the old church and school.