 The International Women's Club of Sofia is hosting its 15th Annual Charity Bazaar at Inter Expo Center Sofia on Sunday, 6 December 2009. In Who Owns the Past? : The Politics of Time in a 'Model' Bulgaria Village, Deema Kaneff produces a useful study of politics and community life in rural Bulgaria. Events happening around Bulgaria during March 2009.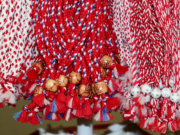 The Martenitsa is an ornament made of white and red threads that Bulgarians put on their clothes or wrists every year on March 1.