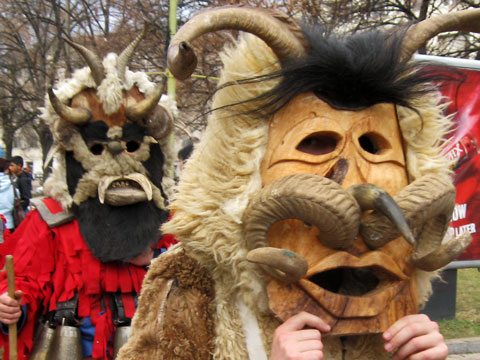 Come and experience the magic and enjoyment of the XIX Surva International Festival of Masquerade Games ! This cultural festival is the largest such presentation of national ritual dances and games on whole Balkan Peninsula, with a traditional focus on kukeri, a type of ancestral Bulgarian masked folk dance.
The festival was first held in January 1966, with the participants coming from the Pernik region. Over the years, international groups started to participate as well.
The event takes place in the centre of Pernik, Bulgaria, this year from 29 to 31 January 2010. Pernik is only 30 kilometres south-west of Sofia, and is easy to reach by bus, train or car. There are buses every 30 minutes from Ovcha Kupel Bus Station; a ticket costs 2 leva and it takes half an hour to get to Pernik. By train from the central Sofia train station, it takes 40 minutes.
Schedule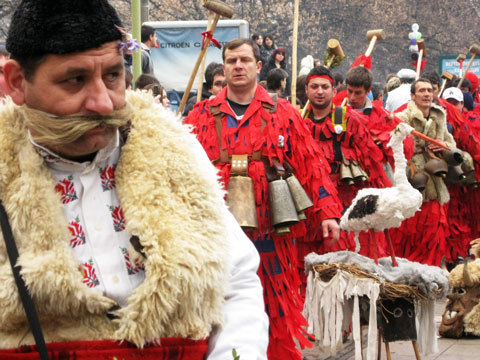 29 January 2010, Friday
* 10.00 Conference Hall at the Palace of Culture. Roundtable discussion on 
"Masquerade – Festivals and Carnivals in Bulgaria"
* 11.00 Municipal Youth Centre
. Mask Workshop – Demonstrations by the best craftsmen of how to make traditional masks. 
Presentations by winners and veterans of the festival
* 
16.00 Krakra Square.
 "Festival Kaleidoscope"
* 18.00 In front of the Palace of Culture. 
"You Always Will Be!" – A gala spectacle for the official opening of the XІХ Surva International Festival of Masquerade Games
30 January 2010, Saturday
* 10.00-17.00 Downtown Pernik. 
Festival Parades
* 10.00-18.00 Municipal Youth Centre
. Mask Workshop – Demonstrations by the best craftsmen of how to make traditional masks. 
Presentations by winners and veterans of the festival
* 10.00-18.00 Downtown Pernik. 
Surva Bazaar
* 14.00-17.00 In front of the Palace of Culture. 
Presentation and concert by the foreign participant groups
31 January 2010 Sunday
* 10.00-17.00 Downtown Pernik. 
Festival Parades
* 10.00-18.00 Municipal Youth Centre
. Mask Workshop – Demonstrations by the best craftsmen of how to make traditional masks. 
Presentations by winners and veterans of the festival
* 10.00-18.00 Downtown Pernik. 
Surva Bazaar
* 14.00-17.00 Palace of Culture. 
Presentation and concert by the foreign participant groups
* 18.00 Krakra Square.
 Official closing of Surva 2010
* 19.00 In the Palace of Culture. 
Friendship Night – Gathering of foreign groups
29 to 31 January 2010
Open doors days for Pernik museums, galleries and the Medieval fortress Krakra
Cultural-Information Centre: 
10 Krakra Sq, Pernik, Bulgaria
Telephone:
 076/ 608 131, 076/ 605 207