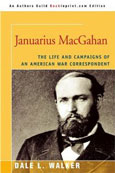 MEMO
FROM: David McAuley
TO: All attractive young stars and starlets, recognition-starved screenplay writers, ambitious producers and directors, and other Oscar-hungry types
SUBJECT: Neglected material – pure heart-tugging, award-winning gold – available cheap
The Brief, Exciting Life of Januarius MacGahan
Born in an Ohio farmhouse in 1844 with an ability in languages (his own and foreign), Januarius MacGahan went to Europe as a young man with barely the shirt on his back. In a few short years, he covered the great events of the day for major American and British newspapers, acquiring a wide variety of colorful acquaintances and experiences in many lands, rubbing shoulders with Generals and Kings, marrying a beautiful and devoted Russian aristocrat, and bringing to the attention of the world one of the most appalling massacres of his age, all before dying tragically young in 1878 from disease caused by his own overwork in pursuit of the Big Story. He is, to this day, honored as a hero in the Bulgaria that he helped liberate but lies in an Ohio grave, anonymous and forgotten in the country of his birth.
Doesn't that make you want to drop everything and write a screenplay? What are you waiting for? I already know someone who took early retirement from the government of an unnamed superpower in order to write one. Seriously. Get moving.
History Brought to Light
Author Dale Walker deserves credit for a great deal of original research and apparently convincing MacGahan's skeptical descendants to allow original papers and unpublished writings by MacGahan and contemporaries to see the light of day for the first time, nearly a century after his death.
When the author sticks to the story of MacGahan's life (which is often), the writing is compelling. MacGahan risks life and limb getting the scoop in wars in Germany, France, and Spain, before setting out in unauthorized and highly dangerous pursuit of the Russian army's adventures in central Asia. He survives an expedition to the Arctic.
Most famously, McGahan brings to the attention of the world the Ottoman atrocities in Bulgaria, especially the massacre in Batak, causing a reluctant British Empire to reverse its decades-long support of the "Sick Man of Europe". For this last, a street is named in his honor in Sofia, his name is memorized by thousands of school children for their history tests, and Bulgarian diplomats make yearly trips from Washington, D.C., to his grave site to honor his memory.
Conclusion
Until a cinematic team with an unfashionably grand sense of the sweep and majesty of history comes along, this perfectly adequate book will remain the most memorable and comprehensive source of information about MacGahan's dramatic life. It was first published in the '70's, went out of print, and is now (for the time being) available in paperback. Combined with MacGahan's journalistic dispatches (now conveniently in the public domain), you've got everything you need to grab that gold statuette. Go get 'em, tiger!
Buy Januarius MacGahan: The Life and Campaigns of an American War Correspondent
right now from Amazon.com.
Contents:
List of Illustrations
Foreword
Acknowledgments
Preface to the New Edition
Part I
1. Up from Pigeon Roost Ridge
2. The War Correspondent
3. Baptism of Fire
4. Varvara
5. MacGahan Asiaticus
6. The Fall of Khiva
7. The Cossack Correspondent
8. Riding with Don Carlos
9. Under the Northern Lights
Part II
10. Bloody Batak
11. The Triumvirate
12. Guns across the Danube
13. Promenade to Plevna
14. The Great Assault
15. On to Constantinople!
16. A Death in Galata
Epilogue
Notes
Biobliography
Index
Citation:
Walker, Dale L. Januarius MacGahan: The Life and Campaigns of an American War Correspondent. Lincoln, NE:Backinprint.com, 2006.
[ad#Amazon Books bulgarian history, bulgaria]