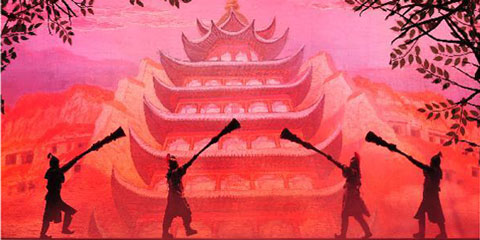 The Gansu Provincial Opera Ensemble presents the Dunhuang Charm Show, a musical extravaganza celebrating Chinese culture through song, dance and instrumental music. Appearing on 8 February, the grand three-act performance presents the essence of Chinese ancient dance through the romantic prism of the murals, music and poems found at Dunhuang.
This award winning show was inspired by study of the Dunhuang Mogao Grottoes, a UNESCO World Heritage site in northwestern Gansu Province in the People's Republic of China. Three years in the making, it was first performed in 2004 for the opening of the First China (Shenzhen) International Cultural Industries Fair. It quickly became an international hit, and now tours frequently in service to cultural exchange.
This performance has been organized jointly by the Chinese Embassy in Bulgaria and the National Palace of Culture in celebration of the Chinese Lunar New Year.
Information:
National Palace of Culture
Bulgaria Square No. 1
1414 Sofia
Bulgaria
(t) +359 (0)2 916-6300
(t) +359 (0)2 916-6369 (ticket office)
[ad#Google Adsense Bulstack 468×60 post banner]