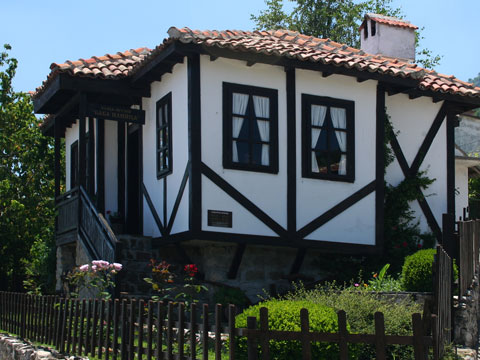 Baba Illiitsa was a Bulgarian woman who came to the aid of Hristo Botev and his band after they were routed by the Turks around Okolchitsa Peak in the Balkan mountains. Despite great personal risk, she rescued one of the band members.
Ivan Vazov heard this story while visiting Chelopek in 1899 and it inspired him to immortalize Baba Iliitsa in the short story "One Bulgarian Woman." At first he gave the story a different title, publishing it as "The Chelopek Mountains," but after the first edition he preferred to draw readers' attention immediately to the heroic character of Baba Iliitsa. The title bundles all of the fine qualities of the Bulgarian people into one worthy woman.
Over a century later her descendants and the municipality of Chelopek memorialized her life and hisstory through the dedication of her home as a house museum. The house was restored completely to its original appearance.
Today, Baba Iliitsa's great great granddaughter Vasilka Mancheva is the mayor of Chelopek village. Streets bear her name in Sofia, Vratsa and other cities around Bulgaria.
The Baba Iliitsa House Museum is in the center of Chelopek village, on the road to Okolchitsa Peak, one of the one hundred national tourist sites. They share number seventeen on the list, and the stamp for both is issued at the house. The museum is open every day from 09:00 to 17:00. The house is kept locked. When we visited, a friendly young woman appeared just as we walked up, opened the door, and shared with us some description of the house and the life of Baba Iliitsa.
[ad#Google Adsense Bulstack 468×60 post banner]