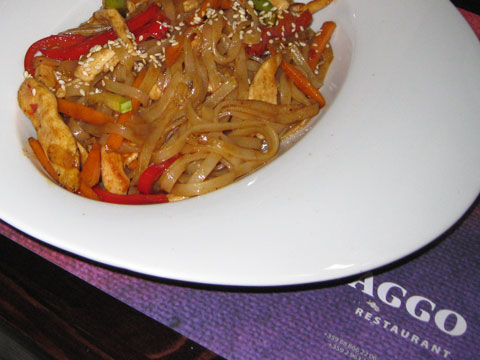 As we entered, I thought, "If we don't like the food, we can always sit back, and enjoy the ceiling's unusual design and flashy room decorations — just take time to relax." Recently completed, Spaggo's décor is beautiful and eclectic. Downstairs, art deco modern white tables and chairs fill the cheese and wine rooms. A long, spacious coffee veranda for casual meetings mid-morning.  A black/white bar and drinks area for later in the day. There is space for party size groups, with seemingly endless possibilities and long serving hours.
We chose to visit the more casual family style dining upstairs in the pizza and pasta area. Its booths comfortably seat eight. Two separate play areas are provided for small children of guests, one designed for small babies, the other ages 3-12; both are bright, pleasant and clean. Toilets are western style, immaculate, and fully functioning.
As the food was excellent, there was no need to distract ourselves with the pleasant décor. The Thai Chicken Vegetables and Noodles had an edge of warmth in the spices, slightly bright, but not too piquant. The Chicken risotto with cheese was creamy and delicious, a nice sized portion to share, easy on the palate, a child pleaser. Although small in size, the Gnocchi was as it should be, a plate of melt in your mouth goodness. And the vegetable lasagna with broccoli and sun dried tomato was light, warm and sustaining.
The service was good, above average for Sofia; the waiters listened carefully and were patient, taking particular care to help us find a wine that suited us and (as we requested) our budget. We chose a modest Pinot Grigio that turned out to be delicious.
Our only disappointment was the Caesar salad dressing, which was tasty but too creamy, as usual in Bulgarian restaurants. Our search in Sofia for the perfect Caesar salad continues.
A dinner for two people with main courses, one bottle of wine, plus coffee and dessert put the cost of the meal just over 70 leva. A large bottle of water was impossibly high in price (18 leva for 18 oz) so take care and order individual sized water bottles.
Clearly, this is no place to bring a cheap date, but the atmosphere, quality and elegant service make it a sure bet for a special night on the town.
For information and reservations:
Spaggo
Blvd. Sveti Naum 48
Lozenets
tel. +359 2 963 1385, +359 888 662 206
[ad#Google Adsense Bulstack 468×60 post banner]