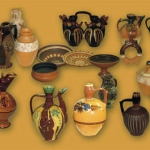 Troyan is located in Northern Bulgaria at the foot of the Central Balkan Mountains. The town lies on the banks of the river Beli Osam that passes through its center. It takes about 2 hours to reach Troyan by car from Sofia.
The name Troyan comes from the name of the old Roman Road, the Via Trayana that connected the banks of the River Danube with the Aegean Sea in the I and II century A.D.  The town name Troyan first appeared on a map prepared by the French cartographer Nikola Sanson in 1660.
In ancient times, the region of Troyan was inhabited by Thracians.  In 2000, archeologists unearthed the oldest known Thracian sanctuary, in Turlata, a village near Troyan.  The sanctuary has been dated to around the 13-11 centuies B.C.
The first half of the 19th century is famous for the flourishing of local crafts such as homespun tailoring, pottery making, wood-turning, fur dressing, and metalwork.   Troyan has maintained its commitment to crafts, and still todayis one of the main centers of ceramic production in Bulgaria.  The wood carvings, wrought metal, fleece rugs and finely-woven towels are also typical products of this region.
In 1911 the first electric light was switched on and Troyan became the third electrified town in Bulgaria after Sofia and Plovdiv.  A good education has always been highly valued in Troyan; because of this, many of the local elite at the beginning of the 20th century sent their children to university in Switzerland, France, Germany, England, Austria or the Czech Republic.
Spectacular natural treasures of the Troyan region are the Steneto and Kozya Stena nature reserves.  They are parts of the Central Balkan National Park.  Interesting rock phenomena are common with names such as Haidushkoto Igrilo, Ventsite, and Krali Markova Dupka.  Ptichna Dupka (Bird's Hole) Cave is the most beautiful in the area.  Near Troyan the Kumanitsa River has carved out one of the most remarkable canyons in the Balkan Mountains – the famous Stene.
The Troyan region is fast becoming an attractive place for tourism and recreation.  Two of the resorts, Shipkovo and Chiflik, have warm water mineral springs with healing properties.  Other famous resorts are Oreshak, Cherni Osam and the ski resort Beklemeto.
There are also about 30 cultural-historical monuments in the area.  The most important historic monuments are the Troyan Monastery, the church of St. Petka – Paraskeva, the church of St. Nikolai Letni in the village of Gumostnik, the Museum of Folk Crafts and Applied Arts and The National Arts and Crafts Exhibition.  The Troyan Monastery is the third largest in Bulgaria.  Another interesting archeological object is the small Roman town Sostra located near Troyan.
An additional reason for the rapid development of tourism in Troyan is the cuisine of the region. Specialities are: wolf salad, nettle soup, kachamak with prajki (fried bacon), spring guvech with karvavitsa, and shish-meals with aromatic herbs and spices from the Balkan region.