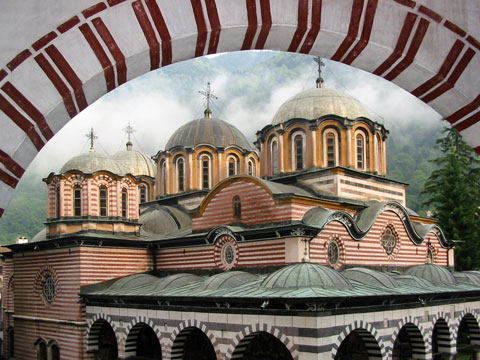 Rila Monastery is the largest and most famous Eastern Orthodox monastery in Bulgaria and the largest in the Balkans outside of Mount Athos.  It was included in the UNESCO World Heritage list in 1983 as an important symbol of Bulgarian cultural identity.
The monastery  is situated in the northwestern Rila Mountains, 117 km south of the capital Sofia, in the deep valley of the Rilska River, 1147 m above sea level.   Rila Monastery was founded by St. John of Rila, a Bulgarian monk, in the 10th century.  It was destroyed and rebuilt in the 13th and 14th centuries.   An impressive stone tower, built by the local feudal lord Sebastocrator Hrelyu in 1334-1335, still stands in the courtyard of the present complex.   The bishop's throne, richly carved doors and some manuscripts, icon-paintings and church plates also remain from that era.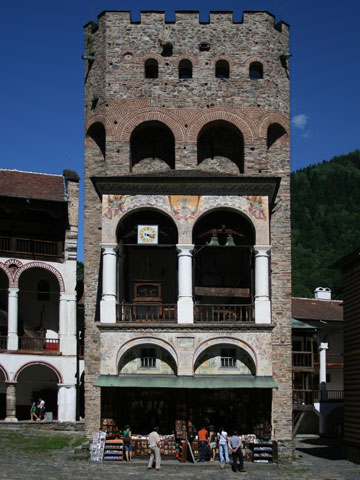 The monastery was abandoned for a short time in the 15th century after Bulgaria fell to the Ottoman Turks, but in the second half of the same century it was restored to new life.  It was ravaged and restored several times during the Turkish era.  A thorough renovation began in the early l9th century.  The residential wings and the Church of the Virgin Mary were built during 1834-1837.  A belfry was added to the tower in 1844.
One of the most valuable possessions of the church is its wooden iconostasis with azure fretwork.  The wall murals, finished in 1846, were painted by many artists, most notably by the famous Zachary Zograf, whose work can be seen  in quite a few monasteries around the country.
St John of Rila, whose relics are exhibited for pilgrims in the main church, lived in a cave about a half hour walk above the present-day monastery complex.  The monastery itself is believed to have been built by his disciples, who came to Rila to sit under his teaching.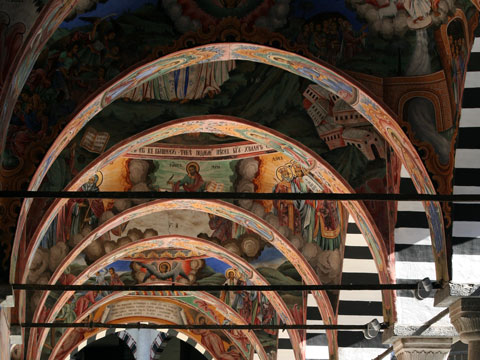 The entire complex of the monastery is quite impressive for its size.  The four story residential part consists of no less than 300 monks' cells, 4 chapels, an abbot's room, a kitchen, a library and guestrooms for donors.  The monastery offers an impressive view of the surrounding mountain peaks and has developed into a well appointed tourist site with all of the accompanying facilities such as souvenir shops, restaurants and hotels.
Once inside the complex, it is worth visiting the monastery museum, which hosts many priceless works of art. Raphael's Cross, intricately carved from a single piece of wood, is particularly noteworthy.