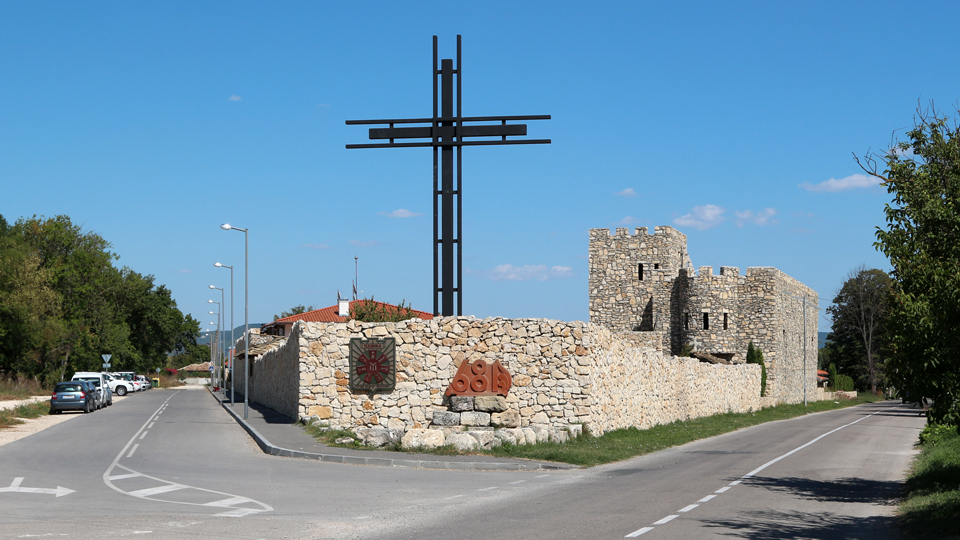 The Courtyard of the Cyrillic Alphabet is a unique sculpture garden and museum complex located close to the town of Pliska, Bulgaria. Open since 2015, the complex is at once well defined and yet still developing, as works of art are added regularly to the collection to celebrate the creative highlights of Bulgarian history and culture.
Courtyard of the Cyrillic Alphabet
The entrance leads directly to the courtyard of the Cyrillic alphabet, an outdoor space housing larger than life stone sculptures of all 30 letters in the Bulgarian alphabet. These stand over two meters high, mounted for display and carefully arranged in a large oval. Statues of Cyril and Methodius and King Boris I keep watch over the courtyard, reminding us of the long history and active measures necessary to bring Slavic literacy and Christianity together in Bulgaria.
Art Gallery
The art gallery, housed inside the fortress-like main building, displays works capturing many important scenes from Bulgarian history. Here you will find depictions from the lives of Cyril and Methodius, the path of development and adoption of the Cyrillic alphabet, and the timely embrace of christian faith by King Boris I and the Bulgarian nation.
Alley of Writers
The inner courtyard contains a bust collection of Bulgarian and international authors who have written in the Cyrillic script. The Alley of Writers was inaugurated on 1 November 2017 with the unveiling of a bust of beloved Bulgarian author Peyo Yavorov. Dozens more have been added to a collection envisioned to number 80 when complete.
Base reliefs of 10 international authors adorn one of the stone walls in the Alley of Writers, complementing the bust collection.
Details for Visiting the Courtyard of the Cyrillic Alphabet
Address:
Old Pliska Complex
Pliska, Bulgaria
Tel: +359 897 949 718
Email: [email protected]
Website: дворнакирилицата.bg
Hours:
09:00-18:00 Daily
Photos allowed free of charge
Group tours free of charge
Fees:
Entrance 8 leva
Students 4 leva
Seniors (over 65) 4 leva
Children up to 7 years free