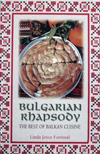 Food is a personal matter. Everyone develops his or her own relationship with Bulgarian cuisine, picking out favorites from amidst the standard fare, and turning to those tasty choices again and again. Over time, family and friends get to know the "go to" meals we will choose when put on the spot, and can order for us without even asking.
Expats seem to carry these preferences home in their memories, only to have them revived when they meet a Bulgarian or receive a guest familiar with Bulgarian cooking. Some try to approximate favorite dishes using whatever ingredients are available at the time. Standing in a far away kitchen, it's easy to imagine many asking themselves, "Now how did they make that?" For Bulgarian food lovers, Linda Forristal's Bulgarian Rhapsody: the Best of Bulgarian Cuisine is a good place to find the answer.
Forristal has created a delightful and useful book with over 100 recipes for every part of the meal. Each recipe is listed with ingredients in English. The step-by-step instructions are complete and easy to follow.
There are salads and appetizers ranging from the simple and universal shopska salad to the more local and personal Penka's Kyopolo, a nonfat version of the familiar eggplant spread. Bread recipes include traditional holiday loaves for New Years Day and Easter, as well as the trusty tutmanik, a simple cheese bread I often pick up as a snack from our local bakery. There is a good selection of soups, including Kurban chorba, a ceremonial soup often prepared for village holidays.
The main dishes seem to cover every eventuality. There is a good mix between lighter, vegetarian fare and heavier, cooked meals. The cooked meals emphasize slow cooking, including enough variations of mousaka and gyuvech to keep those old standards interesting. The dessert section is simple, but covers the basics, including baklava.
A handful of menus are included for special occasions. The menu for Budni Vecher (Christmas Eve) offers a strong selection of appropriate foods for the holiday.
The book is peppered with short information sidebars describing fun facts and historical events. There are also vignettes describing Baba Marta and Cyril and Methodius. A list of Bulgarian UNESCO world heritage sites completes the text.
No cookbook can include everything, however, and this is no exception. Sadly, the recipe for sirene po shopski (baked feta cheese with egg) does not appear. It is a unique and unusually satisfying Bulgarian food. Basic chicken soup is curiously absent, considering its popularity, especially in winter. Shkembe chorba (tripe soup) is also missing, though many would chalk that up to good judgment on the part of the author.
On the whole, this is a valuable reference for anyone looking for help with Bulgarian cooking, especially for those who have moved on to farther fields. These recipes are sure to revive pleasant memories of Bulgarian friends and meals.
[amazonify]0963918214:right[/amazonify]
Table of Contents
Acknowledgements
Introduction
Appetizers and Condiments
Feta Cheese with Paprika
Turshiya
Zucchini Kufteta
Eggs a la Elin Pelin
Breaded Eggplant in Yogurt Dill Sauce
Tarama
Classic Tomato Lyutenitsa
Red Pepper Lyutenitsa
Basic Kyopolo
Penka's Kyopolo
Katia's Kyopolo
Salads
Roasted Peppers in Tomato Sauce
Red Peppers with Onion
Maslinena Salata
Shopska Salata
Bulgarian Lettuce Salad
Bulgarian Beans
Bulgarian Potato Salad
Winter Cabbage Salad
Potato Salad with Chubritsa
Peas with Dill
Breads
Vasilopita
Kozunak
Drowned Bread
Festive Cheese Bread
Ceremonial Pita
Sunflower Pita
Mekitsi
Tutmanik
Phyllo from Scratch
Soups, Chorbas, and Yakniyas
Tarator
Tatyana's Topcheta Soup
Bulgarian Bean Soup
Zucchini Creme Soup
Autumn Soup
Spring Chorba with Mushrooms
Potato Soup with Leeks
Teleshko Vareno
Dr. Orahovats' Pork and Leek Yakniya
Chicken Yakniya
Lentil Yakniya
Baba's Yakniya
Potato Yakniya
Kurban
Main Dishes
Kebabcheta
Kyufteta
Tatyana's Stuffed Peppers
Dried Peppers Stuffed with Beans
Balkan-style Zucchini
Zucchini Souffle
Zucchini Au Gratin
Karama
Sarmi
Banitchki
Leek Banitsa
Malinka's Spinach Banitsa
Mother Linda's Byurek
Stuffed Cabbage Roles
Dr. Lazaroff's Loukanka
Maria's Mousaka
Tikvichki Mousaka
Irina's Mousaka
Leeks with Rice
Simona's Mousaka
Eggplant Mousaka
Gyuvech
Gyuveche
Teleshki Gyuvech
Imam Bayaldi
Mishmash
Eggs Panagyurishte-style
Fish Plakiya
Potato Plakiya
Green Bean Plakiya
Kashkaval Pane
Tchushki Pane
Boba Donka's Potatoes Au Gratin
Palachinki
Desserts
Ekaterina's Garash Torte
Simona's Garash Torte
Vanya's Chocolate Rum Torte
Bulgarian Baklava
Maslenki
Agnesa
Revane
Tseloofki
Tikvenik
Valentine's Compote
Ceremonies and Celebrations

A Bulgarian Barbecue
In Memoriam
Vareno Zhito
A Bulgarian Jewish Dinner
Enginara
Pastel di Carne con Massa Fina
Kyuftes di Miringena
Pollo con Bamya
Miringenas Inchidas con Carne
Inchussa di Leche
A Bulgarian Christmas Eve Dinner
Christmas Eve Pita
Leek Yakniya
Christmas Eve Bean Soup
Christmas Eve Bean Salad
Lentil Plakiya
Vegetarian Stuffed Cabbage Rolls
Fasting Sarmi
Ashure
Oshaf
Fasting Tikvenik
A Bowl of Fruit and/or Nuts
A Bowl of Honey
A Bulgarian Low-Fat Feast
Spinach Soup
Chicken Breasts in Yogurt
Zucchini Plakiya
Fruit Sladkish
Baba Marta and the Martenitsa
Cyril and Methodius Day
UNESCO World Heritage Sites
Index
Citation:
Forristal, Linda Joyce. Bulgarian Rhapsody: The Best of Bulgarian Cuisine. Bladensburg: Sunrise Pine Press, 1998.