 Bulgarian leaders announced the symbolic start of building works on a new subway/metro extension connecting Mladost to the Sofia Airport. The three year plan includes construction of a large car park at the Tsarigrasdsko Shose. The Troyan region, rich in history, crafts, natural beauty, and good food, is fast becoming an attractive place for tourism and recreation. Balchik Palace and gardens is situated among striking white limestone cliffs at one of the most beautiful natural locations along the Bulgarian Black Sea Coast. Recently named "Winter Capital of the Balkans," Bansko will officially open the ski season on 11 December. The town has a full program planned for the weekend. Varna quickly developed into a major economic and cultural center following the war of independence from the Ottoman Turks. Nestled in the Tryavna River Valley in the central-north part of the country, surrounded by lush hills and mountains, and decorated with historic houses in the Bulgarian Renaissance style, Tryavna has preserved the spirit of bygone times. Melnik is the smallest city in Bulgaria and is known for its distinctive architecture and local wine production. Koprivshtitsa is a living monument to the life, history and architecture of the National Revival period.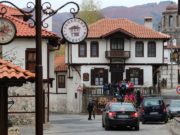 Zlatograd is a town in south central Bulgaria. About the cityAbout the cityAbout the cityAbout the cityPeopleAheloy • Ahtopol • Aksakovo • Alfatar • Antonovo • Apriltsi • Ardino •... Zlataritsa is a town in north central Bulgaria, located in Veliko Tarnovo province. It is the administrative capital of Zlataritsa municipality. The name comes...